I've had the best of times in newspapers
Reporter: Martyn Torr
Date published: 16 April 2015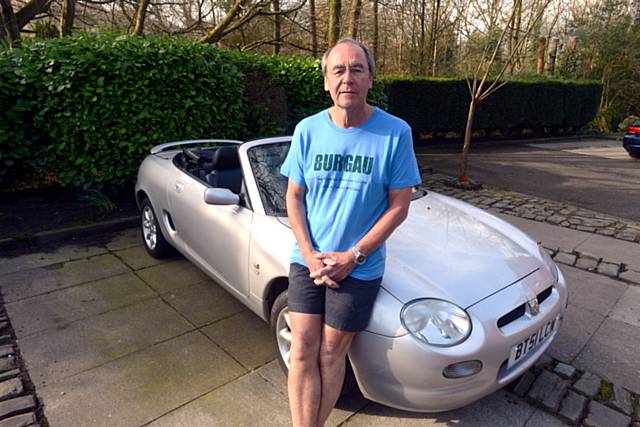 OFF into the sunset . . . Martyn and his beloved MG-F — his ninth MG
Martyn Meets... Martyn Torr, part 4
WHEN Oldham lads Bob Wright and Brian Prescott walked into the Hunters Tavern in Stalybridge for the Reporter Newspaper group's Christmas party, no-one was surprised.

The pair had worked as advertising reps there for years before leaving to set up Good Advertising and Promotions in Prince Street, Oldham, with Lyndon Willcox and Robert Long.

It was what they had to say to the group sports editor - Martyn - that was the surprise: "They offered me a job." Martyn being Martyn, he wasn't for listening and asked the guys to come back in the New Year if they were still serious. They were.

On February 13, 1987 Martyn left the Reporter after 22 happy years and became the writer — the only one — on a fledgling magazine envisaged by Oldham Council's marketing department.

Ed Stacey floated the idea of a communication aid to the borough's business community, Good Advertising won the contract and headhunted Martyn to produce the 36-page, A4 magazine.

So Martyn returned to Oldham and within four years the quarterly magazine had become monthly and the business had also taken on three other titles — for Tameside, Rochdale and Bury.

"The plan was to have a magazine in each of Greater Manchester's satellite boroughs and then approach the city centre. We published the magazines and the councils guaranteed delivery to every business in their borough. It was a winning formula."

Sadly the financial crisis of 1991 hammered the economy, the bank called in the overdraft and the business folded within a matter of weeks.

But Martyn got lucky. Bob Young was deputy sports editor of the Oldham Chronicle and it was Martyn who had given the then 17-year-old former Audenshaw Grammar School pupil his first job as a trainee journalist at the Droylsden Reporter in 1971. Bob needed a helping hand on the sports desk.

"I worked a few days a week, subbing and doing minor stuff. All the proper jobs — covering Latics and rugby and United and City — were already taken. And despite my years on the Daily Mirror racing desk I couldn't match Keith McHugh's encyclopedic knowledge of racing. But I was happy to be earning a few quid."

All the while Martyn was preparing a new life for himself, establishing New Image (Public Relations) Ltd in partnership with two people who have become the firmest of friends and the foundations of his somewhat chaotic life over the past 24 years.

Nick Shaw and Dave Whitehead had been running New Image (Print and Design) Ltd. for eight years and were doing okay. They became partners in Martyn's new enterprise, but fate took a hand and Martyn was offered a full-time job on the Chronicle when sports editor Donald Taylor lost his brave fight for life.

Martyn being Martyn, and not unused to having two jobs, opted for the safe bet and so began to work on the sports desk while building up his business in the evenings and on days off.

Not for the first time, fate took a hand again. Fred Bottomley, the Chronicle's business correspondent for as long as anyone could remember, retired.

No-one on the editorial floor wanted the job so editor Philip Hirst and news editor Mike Attenborough summoned Martyn to a meeting.

Martyn, being who he is, thought the job would be his... until the bosses asked if he had any idea who might be interested. After the nanosecond it took Martyn to recover, he said: "Yep, me."

To say Philip and Mike were less than enthusiastic is an understatement. Martyn wanted the job part-time, mornings only so he could continue to build his other business. But the Chronicle back then didn't have too many part-time employees and certainly none on the editorial floor. They agreed to give it a six-week trial, and for the next 42 days Martyn reported on the business affairs of Oldham.

In recent years he also developed his Martyn Meets... series of interviews — the idea of editor Dave Whaley, whom Martyn describes as an inspiration to the staff with his relentless, unforgiving enthusiasm.

"I have enjoyed every minute of my time at the Chronicle. I have been allowed by each of the editors - Philip, Jim Williams and now Dave - to be my own man, bring my own reporting ideas to the paper and be the paper's face of the business community."

Martyn has met some amazing people: Norman Stoller, David Bellis, Robin Eglin, Frank Rothwell, Maggie Riley, Keith Coates, Colin Smith, Charlie Parker and Cath Green -who succeeded Hugh Broadbent, whose retirement piece was the forerunner of the Martyn Meets series.

Steve Kilroy and Louise Laughton of BAE Systems were two more who have had such a positive influence on the enduring and ever-growing Oldham Business Awards.

"I bumped into Dave Meredith from NatWest in the White Hart one Friday tea-time and, over a drink persuaded him to back my idea for an event to recognise and reward Oldham's business community.

Dave has been with me every step of the journey, as have many others — Steve Lowe, Kash Ashraf, June Smith and latterly Louise Slater among them.

"There are just so many. These people are the backbone of Oldham, proud to make the town the vibrant place we all love."

But now, the end is near, to quote Sinatra. Martyn looks back on his time in journalism with memories that will stay with him for the rest of his days.

"I've had the best of times in newspapers, no question. The days when the presses rolled and the buildings shook and everyone, and I mean everyone, read a paper.

"Now with all this technology and social media, people can get their news in a myriad of ways. Personally I'll never stop reading newspapers. They have been my life. And it has been a quite fantastic life."

Perhaps 24 years on, the editor will at last convene that post-six-week meeting and see if Martyn can stay on at the Chronicle.

The answer might be yes, but at 67, retirement's a bigger pull.

Anyway, they've been the longest six weeks of his life...