Clean bill of health
Date published: 31 August 2017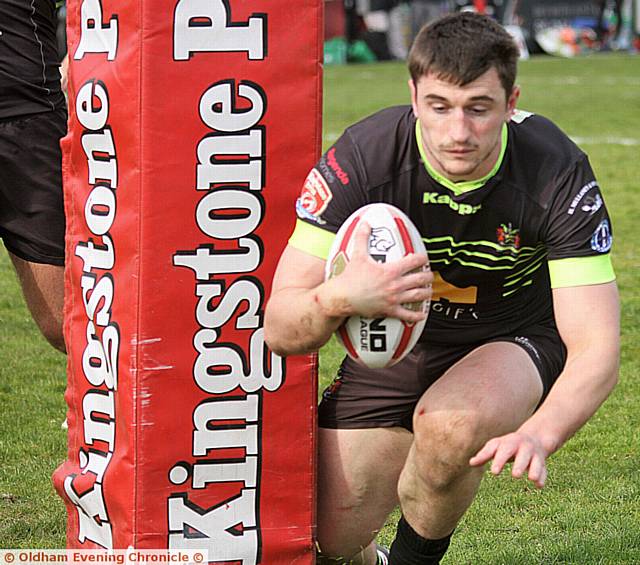 Joe Burke
OLDHAM boss Scott Naylor doesn't anticipate any new injury concerns following Monday's bruising 30-24 win at Rochdale.

His players report back for training tonight, ahead of Sunday's clash with Toulouse Olympique at Bower Fold (3pm), after being given Tuesday night off.

Prop Adam Neal is close to a comeback after nine weeks out with a broken jaw and both he and Danny Grimshaw (groin) will be assessed tonight.

Spirit in the camp is said to be first class after a draw at Batley Bulldogs and then victory against derby rivals Rochdale, also away, in the Roughyeds' last two games.

CONFIDENCE
"Confidence is sky high and we're playing with a lot of character," said Welsh prop Joe Burke, whose two-try performance at the Crown Oil Arena was described by Naylor as "brilliant."

Newport--born Burke, capped 11 times by his country, hopes to be in the Welsh squad again for the autumn World Cup series in the southern hemisphere, but his total focus just now is on helping to keep Oldham in the Championship for a third season in a row.

"He isn't the heaviest prop in the game, but he's got the knack of scoring tries and he hasn't got a backward step in his body," added the Oldham boss.

The Roughyeds' last home win was 14-12 against Toulouse on July 2 when the Frenchmen went into battle without their first-choice halves Jon Ford and Stan Robin, who are both back in the side now after injury.

Frenchman Robin, formerly with Catalan Dragons, has been back for the last few games, but Aussie Ford, Olympique's star man, only returned after a long lay-off in Monday's 32-16 home win against Sheffield Eagles.

Both half-backs scored in a win which sealed the French side's place at the top of the Shield table with three games still to play and earned them a home play-off in the semi-final.

Battling against Rochdale and Swinton to avoid relegation, Oldham have far more to play for than the French side in their penultimate home game of the season.

They've slashed admission prices by £5 for adults and concessions and announced that under-16s will get in free so long as everyone fills in a personal information sheet and hands it in at the turnstiles.

It asks for name, age, postcode and email address.

Forms can be downloaded off the club website and they are also available from Whitebank and from 12.30pm on Sunday at the main reception at Bower Fold. Tameside-based fans can get them from Gymetc next to Bower Fold; from the Wetherspoon pub at The Society Rooms in Stalyb ridge and from the Stalybridge branch of Corals.

+ Injury and suspension rules Rochdale forward Gary Middlehurst out for the season, but Lewis Foster and Josh Crowley are expected to return to the side for Sunday's showdown with Swinton at the Crown Oil Arena.