Power hits his mark
Date published: 28 April 2010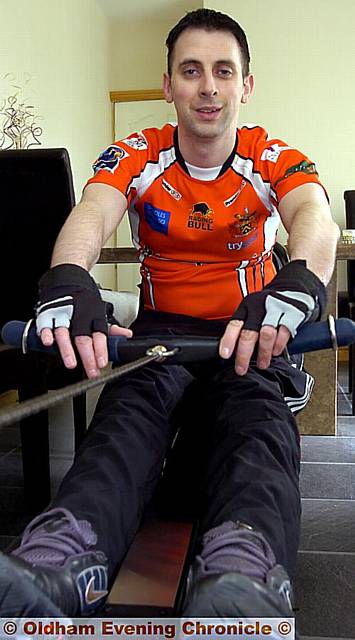 JOHN POWER
JOHN Power completed a superb achievement in rowing a marathon 26 miles in five hours and 26 minutes in the Carnegie Challenge event at Leeds Metropolitan University.

It was believed that John might have become the first wheelchair competitor ever to finish a rowing marathon — with all sponsorship proceeds going to the RFL Benevolent Fund — and efforts are being made to establish this as fact.

The former Oldham player, now a keen supporter of the club and a member of the club's website team, set himself a sponsorship target of £1,000 but surpassed that with ease with a flood of donations in the 24 hours immediately before and after the event.

Describing how he stunned the experts with his marathon effort, John said: "After about 20 miles I really hit the raw and I didn't think I was going to make it. My energy levels were low and I was aching a lot.

"Every 5,000 metres I had a one-minute break, during which I took on water and had the occasional banana.

"At one of those stops I was really struggling but my physiotherapist Colin Green was on hand to keep an eye on me and it was he who pushed me on and got me through it.

"I was also grateful to the lads in the Roughyeds team who came over and encouraged me vocally at the time I needed it most."

John, who will marry his fiancee Julie Butterworth in October, went on to complete a magnificent achievement on behalf of Try Assist, the fund that helps rugby league players who are seriously injured.