Oldham 'hopeful' over new additions
Date published: 20 July 2016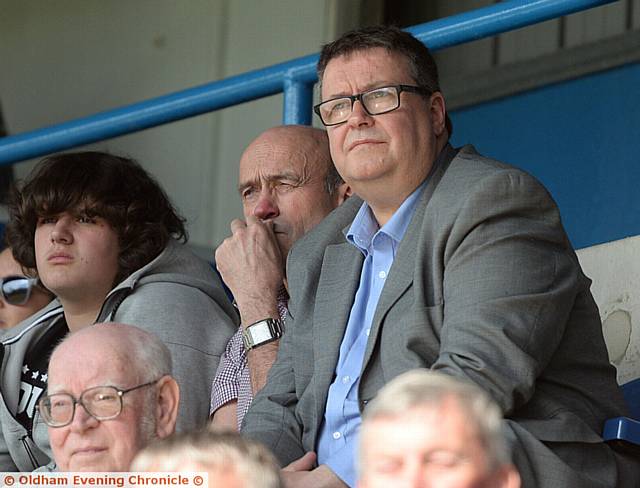 CHRIS HAMILTON
WITH the clock ticking down to Friday's signing deadline, Oldham RL Club "remain hopeful" of adding to their squad for the season-defining Championship Shield games.

"We hope to bring in new faces before weekend," said coach Scott Naylor after last night's training session at which injured quartet Lewis Foster, Gary Middlehurst, Jack Spencer and Gareth Owen did enough to suggest Naylor could have a clean bill of health for Sunday's final game of the regular season against Workington Town at Bower Fold (3pm).

Looking to complete beat-the-deadline signings, chairman Chris Hamilton added: "We are doing a lot of talking to a lot of people.

"Like many clubs right now, we're 'phoning and emailing all the time. Clubs are reluctant to let players go, but we remain hopeful.

SPECIFIC

"We're also talking to Huddersfield Giants regarding our use of dual-reg players in the Shield and the specific rules that come into play once the regular fixtures are completed on Sunday."

Roughyeds have used six Giants youngsters so far ­- Liam Johnson (13 times), Tyler Dickinson (10), Sam Wood (five), Kruise Leeming (four), Jared Simpson (three), Darnell McIntosh.

Rules stipulate that a player with eight or more appearances for his employer's partner club in the regular season (in Oldham's case Johnson and Dickinson) can continue as previously and play for both clubs up to the end of the season.

Players with fewer than three appearances are not eligible at all and those with three appearances, but fewer than eight (Wood, Leeming, Simpson) can play for Huddersfield or Oldham, but not for both.