Akbar back on tour!
Reporter: Kevin Richardson
Date published: 26 April 2017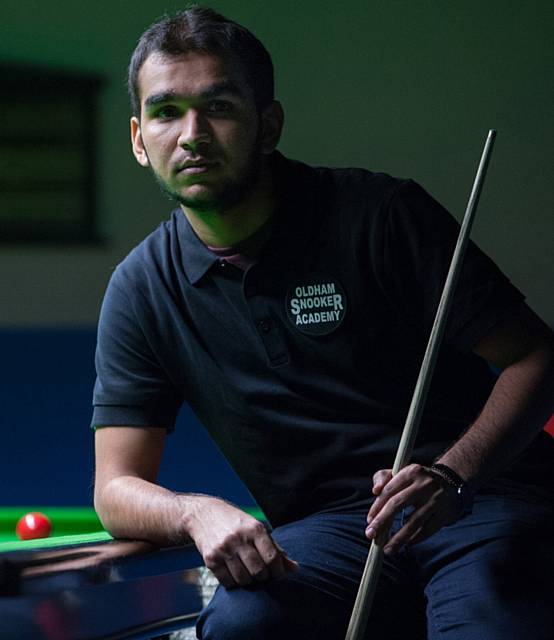 HAMZA AKBAR
HAMZA Akbar has been handed another chance to prove himself on the world stage after being awarded a wild card by the game's authorities.

World Snooker and the WPBSA have granted the Oldham-based professional special dispensation to compete on the main circuit for the 2017-18 and 2018-19 seasons.

The decision to allow Akbar, from Pakistan, to be part of the tour for the next two years was taken because of "exceptional circumstances" said a statement on the World Tour website.

Akbar (22) has missed 11 tournaments in an 18-month period due to much-publicised visa issues.

The decision falls in line with similar measures undertaken to support other snooker players from developing regions.

"We must thank World Snooker for their understanding," said Akbar's manager Mohammed Nisar.

"He is delighted to get an opportunity to play on the main tour again.

"VISA PROBLEMS"

"Hamza has found it difficult to settle because of the visa problems, but now he should have some stability.

"He is more aware of the venues and the tables, which is all good, so we're hoping he can push on and represent the 180 million people of Pakistan.

"It also means he doesn't have to go through Q School to get back on the main tour, which is always very hard because of the many good players out there."

Akbar returns to the competitive scene at the end of next month with qualifying rounds for the Riga Masters and the European Open.

The 23-year-old's spot on the World Tour was instead of issuing an Americas tour place.

No All American Championship was held this year from which a player could be nominated.

Akbar is on the look-out for sponsoring. If anyone can help, call Nisar on 07958 380375.