Get it Wright next time
Date published: 10 August 2017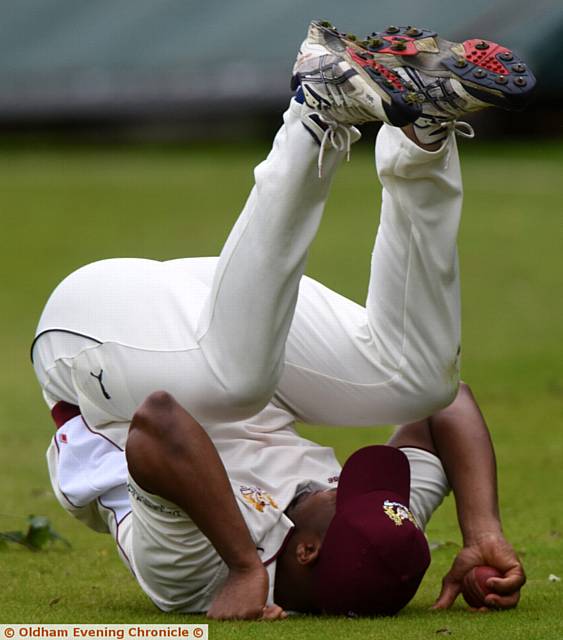 Photo: Darren Robinson
GOT HIM! . . . Crompton fielder Denis Louis catches Michael Harling...
DISAPPOINTMENT was etched all over the face of Crompton captain Simon Wright as all hope of getting a Wood Cup final result at the first attempt was quashed by the weather.

Wright had just seen his team bowl out rivals Rochdale for 183 with a team performance that will rank amongst the best of the season.

But, ultimately, it was all for nothing.

"We knew when we started hat the forecast was not great and that we had to get to at least ten overs into the second innings for there to be a result," said Wright, the rain beginning the drip from his face as it increased in intensity within minutes of the abandonment being announced over the tannoy.

As players and spectators alike were huddled under the canopy of the clubhouse, watching the rain over and beyond the tea interval, there was much debate about the run chase.

That ten over minimum would have equated to 38 - but losing two wickets of less. Three wickets and the game was over.

CHANGED

That changed to 75 for four in 20 overs - something that seemed unlikely as the additions were done and. in the end. there was no further action at all.

"I really fancied our chances of chasing it down - whether it was the full total or a re-calculated one, especially as the outfield would have been damp and the ball wet,"added Wright.

"We found it difficult to hold the ball in those few overs we had after the rain break so it would not have been easy for Rochdale."

Wright praised his team to a man. "We were sharp from the off, never really let the score get moving and took wickets right through the innings. We were pleased with our efforts but we will just have to do it all over again in a couple of weeks time.

Wright's opposite number, former Crompton player Dale Highton, said his players knew they were 20 or 30 runs short of where they wanted to be but they would have been confident that they had the spin and guile to keep Crompton under the winning total.

"It was finely balanced and it was just a pity that we could not have had a break from the bad weather to get it all done on the day."

Both teams will, injury permitting, field the same sides back at Middleton on Sunday week (August 20).

As it happens they meet this weekend in the league at Rochdale.