It's enough to drive you Wild!
Reporter: Keith McHugh
Date published: 28 December 2011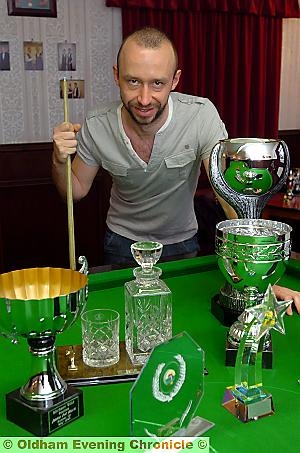 BAIZE OF GLORY . . . Michael shows off the many trophies in his Moorside snooker room.
SNOOKER:

THERE are some challenges you can't resist, even though you know you are in for a good hiding.

So when the opportunity came along to play a few frames with Oldham's top snooker player I grabbed it with both hands.

Michael Wild (30) has been the town's shining light on the green baize for over a decade.

He spent a year on the professional circuit and is currently trying to regain his tour ticket for next season.

Michael plays top opponents week-in, week-out, and practices for over four hours a day, sometimes even longer. He has recently spent many days playing against former world semi-finalist Joe Swail, who has been staying with Michael and his family in their home in Haven Lane, Moorside.

Having your own snooker room obviously helps and the array of trophies and certificates of excellence on the walls clearly underlined the enormity of my task against Oldham's finest.

Undaunted, your correspondent took along his cue and tried to trade blows on the snooker table.

Being the gentleman he is, Michael gave me a few chances and while I would hardly have had fans at the Crucible Theatre shouting in appreciation, my highest break of 16 at least provided a welcome change from fishing out balls from the pockets.

Playing against a top exponent provides a superb insight into the level of his ability.

For a start, Michael seems to hit the ball softer than many amateurs I have watched. It is all about timing and fluency.

"You have to give yourself options," he said. "Don't just play for one ball when you are among the reds. Try to get the white ball in areas where you can go for a ball which will make it easier to get on the colour you want.

"And don't grip the butt end of the cue too tightly. You will lose accuracy and power by doing that."

All good advice, Michael, and, coming from a guy who made his first century break at the age of 14 and has made five maximum 147s against opponents and many more in practice, you clearly know what you are talking about.

A couple of nonchalant half-century breaks and an excellent clearance with four reds left gave me more practice at picking out balls and respotting them, but this was truly a great experience for a keen amateur player such as myself.

And if you get the chance to see Michael in action, then do so. You won't be disappointed.


CAREER IN BRIEF
Getting started: "My mum took me to Moorside Conservative Club when I was 11 and I loved snooker from the start.

"Harry Lancashire gave me lessons as he coached many of the younger players in the area at that time.

"Then, when I was 12, we had an extension built at home and a snooker table put in it. Things developed from there."

The early days: "I played for Waterhead Conservative Club, which is now shut down, in the local leagues. Even though I was 14, most clubs let me play, but there were a couple which didn't. I made a hundred break in one of the leagues and yet they said I couldn't play in their clubs."

Biggest win: "The Dutch Open in 2008. I beat some top players in that and won £3,000."

Hopes for the future: "I would love to get back on the pro tour. I don't think I am too old at 30 as my eyes are all right and I still have the hunger to succeed.

"I was playing well when I was last on the tour, but I am more consistent now and I did very well on the qualifying circuit last season and am in the top 10 for this."

BangaLore, venue for the recent World Amateur Championship: "It was an experience. You wouldn't go there for a holiday, though. There were cows walking the streets.

"I love curry, it's my favourite food, but I had a chicken curry over there and there were bones in it!"

Match play: "You have to hold yourself together. If I'm playing Mr Smith then there is not as much pressure as you are not as afraid to miss as you are against a top player who will punish you. You just hope you don't miss."

Finance: "I don't get any help from the English Snooker Board, but the lads in Scotland, Wales and Ireland do. I am indebted to my sponsor, Per-fit Windows of Heywood."

The future: "I want to be a coach when I have finished playing and have already got my qualifications. It's not practical at the moment as I am playing so much, but I will do it eventually."