Research reveals secret to a stress-free life: don't live in the North West
Date published: 01 November 2017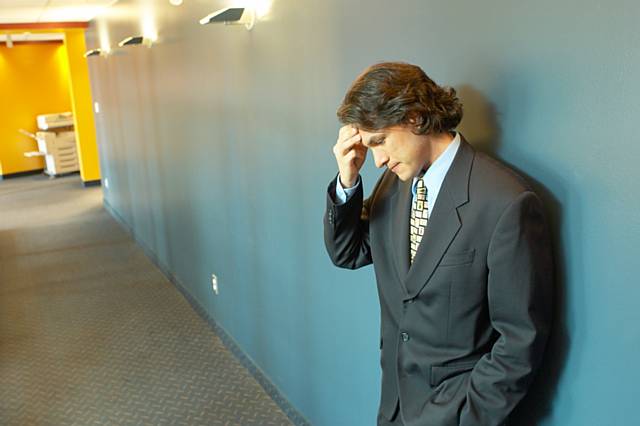 Stressed man
Contrary to stereotypes of strung-out Londoners, the North West and West Midlands seem to be most stressed parts of the country with almost a quarter of people reporting feeling stressed or anxious every day. The East of England is the least frazzled region with only just over 1 in 10 (13%) reporting feeling that way.

New data published by Chrysalis Courses on National Stress Awareness Day (Wednesday 1st November 2017), finds that half of us (51%) feel stressed or anxious at least once a week and 4 out of 10 people (39%) would consider seeing a counsellor or hypnotherapist for stress or anxiety issues.

The research from the UK's leading counselling and hypnotherapy training provider paints a picture of a stressed-out nation with insomnia and unhealthy habits. Half of us (47%) who experience stress or anxiety struggle to sleep because of it and 1 in 5 of us (19%) feel stressed or anxious every day.

Percentage of people reporting feeling stressed or anxious every day by region:
North West – 24%
West Midlands – 23%
North East – 22%
Yorkshire and the Humber – 21%
London - 21%
South East – 21%
South West – 19%
Wales – 18%
Scotland – 17%
East Midlands – 15%
East of England – 13%
Stress and anxiety levels are having a significant impact on our health and well-being with over 4 in 10 respondents (41%) being driven to eat junk food, give in to unhealthy habits such as smoking and drinking (39%), and to take their stress out on their partner or family (38%). 1 in 10 have replied to emails in the middle of the night (13%) and 1 in 25 (4%) people have cancelled or postponed a holiday due to stress and anxiety.

The research shows that your stress and anxiety levels can vary greatly depending on your gender, age and even your marital status:
Men are more than twice as likely to say they never feel stressed or anxious (11% vs. 5%) and women are more likely to suffer the effects of stress than men, particularly in terms of insomnia (54% of women who ever feel stressed vs 39% of men) or taking stress out on their partner or family (45% of women vs 31% of men)
The older you get the less likely you are to feel stressed or anxious: 3 in 10 18-24-year-olds (29%) feel stressed or anxious every day compared with only 1 in 10 over 55s (10%)
Those who have never married are three times more likely to feel stressed or anxious every day than those who are married or in a civil partnership (29% vs 13%)
Being a parent with a grown-up child/ children seems to be linked to slightly lower levels of stress (12% feel stressed or anxious every day), while having kids aged under 18 is linked to higher levels of stress (24% feel stressed or anxious every day)
Social media users are twice as likely to report feeling stressed and anxious every day than those who haven't used social media platforms in the last month (21% vs 10%)
Lorna Cordwell, Head of Counselling at Chrysalis Counselling Courses, the UK's biggest counselling and hypnotherapy college said: "Too much stress can have a devastating impact on your health and well-being and it is very worrying that so many of us are reporting feeling stressed and anxious on such a regular basis.

"It is heartening that four in ten people would consider counselling and hypnotherapy to cope with their stress. Both these therapies have an established track record of helping people to deal with the symptoms and causes of stress and anxiety. At Chrysalis we train hundreds of students to support people suffering through stress and we estimate our graduates see around 12,000 clients every year.

Rebecca McCann had struggled with stress and anxiety for most of her life but when she suffered from Post Natal Anxiety after the birth of her second child she realised she needed support. On her journey to cope with her stress she trained as a counsellor and hypnotherapist with Chrysalis and now helps others struggling with stress.

"I had suffered from stress and anxiety for many years but after the birth of my second child I struggled with Post Natal Anxiety and things got to an overwhelming level. Being a mum and having career ambitions can be very stressful! I realised I needed to find a way to cope with stress so I could get on with my counselling training and my life. I had therapy which enabled me to look at my core beliefs which were driving my stress and anxiety and to get to the root of the problem. My Chrysalis tutor was amazing and really helped me to get through that period and my training.

"Seven years on and I am now running my own successful therapy centre which helps people struggling with stress and anxiety and offers peer support for new mums. The massive amount of flexibility I have in my career is a perfect fit with motherhood and it feels great to use my own experiences to help others."

Robin Tucker has worked in two of the most stressful professional sectors – the military and teaching - and now practices as a counsellor and hypnotherapist helping others to cope with stress. He says "The pressure to perform to ever greater levels and being separated from your family can make the military a very stressful profession. Looking back, I wish I had sought more support to cope with my stress levels.
"When I became a primary school teacher I found that teachers also face a great deal of stress. As a teacher you put pressure on yourself to be there 100% for your pupils. When my dad died and later when my mum became ill the added stress made it very difficult to cope with full-time teaching.
"I decided to do supply teaching and to secure more flexible work by training as a hypnotherapist and counsellor at my local Chrysalis training venue in Southampton. This was a great experience: the tutorial support was excellent and on completion of the course I felt confident to set up my own practice. I now specialise in helping ex-military personnel and teachers look after their mental health."