Armacell Oldham plant receives manufacturing award
Date published: 27 November 2017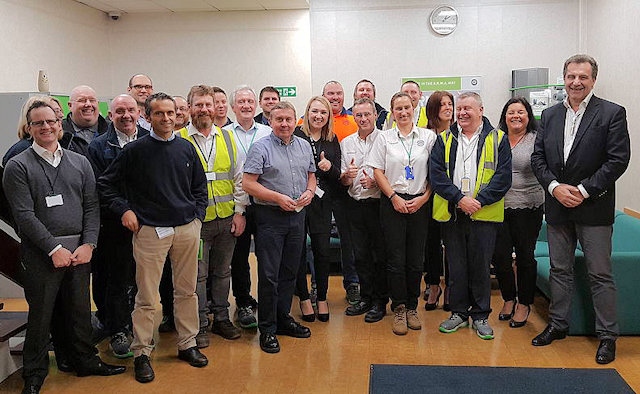 Armacell CEO Patrick Mathieu (right) with members of Oldham WAM team
Technical insulation manufacturer Armacell UK Ltd, located on Mars Street in Oldham, has recently received a World Class Manufacturing award.
The Oldham site, which employees 116 people, is the first amongst five Armacell European manufacturing plants to receive this award.

The World Class Armacell Manufacturing program, or WAM for short, was launched back in 2013 and the Oldham business has been working towards the bronze level accreditation ever since.
Annual audits are held at each of Armacell's 25 production plants worldwide and are assessed by the firm's senior management team, as well as external manufacturing auditors.

The production team are marked on seven different technical pillars, with the first pillar and main priority being safety management. A major contributing factor towards Armacell UK receiving the bronze award is the Oldham plant achieving 1,589 days without a lost time accident (LTA).

The other technical pillars include a series of quality management methodologies to reduce production manufacturing defects, together with workplace organisation assessments and tasks to design processes so they are ergonomically safe and more efficient for both employees and the wider business.

Equipment maintenance and cleaning regimes 5S (sort, set in order, shine, standardise, sustain) have also been greatly improved, with the machinery and overall plant layout now much more efficient and better organised. LED lighting and a recycling management system have also been introduced throughout the plant to minimise the environmental impact of operations, and all production scrap is recycled into new products.

Two overarching pillars of focussed improvement and people development support the continuous improvement in all areas of operations, including product development, logistics and customer services activities.

Plant Manager Tom McCreight, who has worked at the factory for 30 years, said: "The World Class Armacell Manufacturing program has been completely transformative for our Oldham site and our employees.
"The factory floor, in particular, is now a much safer, more efficient and pleasant working environment for all our colleagues, barely recognisable from five years ago.
"Reaching the bronze manufacturing award has been extremely challenging and it is a huge achievement and a credit to the dedication and hard work of all the Oldham team to reach this landmark."