It's good to be back!
Date published: 14 February 2018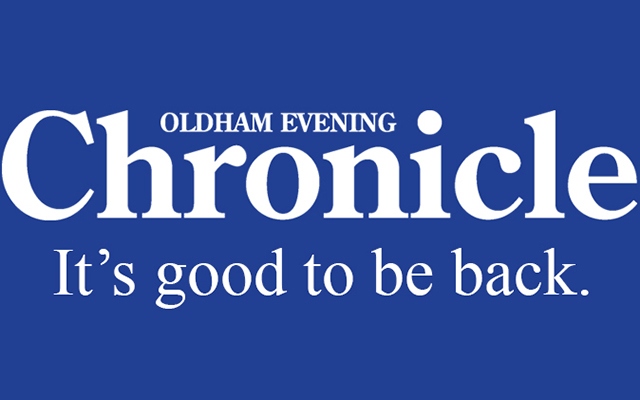 It's good to be back!
Welcome to your new multi-informative Oldham Chronicle website – the voice of the town is back, and very much alive and kicking once again.
Sadly, after 163 years in print, the daily Chronicle newspaper ceased publication on August 31 last year when its parent company, Hirst, Kidd and Rennie Ltd, went into administration.
Credible Media, which owns local radio station Revolution 96.2, purchased the Chronicle in October, along with the rights to high-quality quarterly magazines Oldham Business Edge, the Knowledge and lifestyle publication, Signature.
Now, your Chronicle is back, and news of the online return has been heralded by former readers of all standing, from both inside and outside the Oldham borough boundaries.
Oldham East and Saddleworth MP Debbie Abrahams led the welcomes.
She said: "The Chron has been the voice of Oldham for over 160 years so it's great that the title is adapting to a new online format.
"I wish the team every success as they start a new chapter in the Chron's history. Here's to the next 160 years!"
Oldham West and Royton MP Jim McMahon spoke equally positively on our big day (see separate story), while Cllr Jean Stretton, leader of Oldham Council, said: "Local media has a vital connection to its people and is crucial to local communities and democracy.
"The Chronicle delivered 163 years of continuous publishing in Oldham, millions of words, hundreds of controversies and stories and was part of the town's fabric.
"We are pleased to welcome the Chronicle back as it relaunches online and is now joined by a number of other local news outlets, serving local residents' needs."
Former Chronicle news reporter John Stapleton, now a national television household name, Tweeted: "Brilliant news. All the best to everyone concerned."
Chadderton's Simon Wood, the 2015 MasterChef winner and now owner of the Wood restaurant in Manchester, said: "It's great to have this long-standing Oldham media outlet back up and running.
"The place wasn't the same without you."
Olympic gold-medal winning hockey star Nicola White added: "What fantastic news it is to see the Oldham Chronicle back in business in the town.
"The Chronicle has always played a massive role, reporting news at its best and supporting the community and the people who live here.
"It has always championed me through my journey as a sports person and I just wanted to send all my best wishes and say good luck for what I know will be an exciting new venture ahead for all of Oldham."
Oldham Athletic chief executive Mark Moisley said: "We were all very sad to see the Chronicle go in August, we had it delivered to the club every day.
"It was a key communication tool for us, so we are delighted to see that it's coming back."
The public of Oldham have certainly welcomed the return of the Chronicle after six months.
There has been plenty of support on social media.
On Facebook, Darren Bradshaw posted: "Really looking forward to it. Good luck."
Joan Frost stated simply "Welcome back," while Tony Van Damme added: "Excellent. I'll tell my dad to jump in a time machine, go back 20 years and learn how to use a computer!"
Philip CH Sykes is looking forward to keeping abreast. He posted: "Currently in the Philippines volunteering so looking forward to keeping in touch."
Similarly, capital-based Les Garner said: "Best wishes to the new Oldham Chronicle.
"As a Latics supporter since 1960, exiled in London since 1974, I am looking forward to its return."
Anthony Mackin took to Twitter to say: "Wishing you all the best. Hope it goes well," while All in One Business appeared genuinely excited. They added: "Woo hooo yes!! Congratulations!"
Robert Norbury Tweeted: "Not before time,", while Garcon added: "Welcome back, we've missed you!"
Journalist Simon Smedley is the latest former staffer to have joined the team on the new Chronicle.
He spent five years with the paper before its demise, and now returns with a brief of collating and editing content for the new informative site.
He will lead the Chronicle's cutting edge breaking news coverage, so is sure to be kept busy on what is a sizeable patch.
www.oldham-chronicle.co.uk is a free to view site, with no subscription required.
The newsdesk email address is: news@oldham-chronicle.co.uk and phone number is: 0161 621 6500.
Stay in touch!