MP Abrahams backs calls for blue badge parking scheme to be extended
Date published: 19 February 2018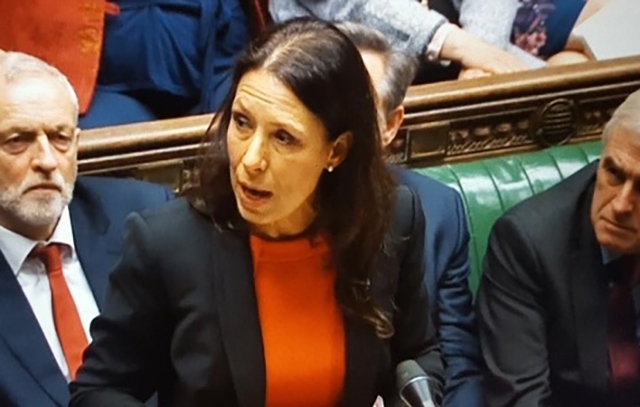 Oldham East and Saddleworth MP Debbie Abrahams
Debbie Abrahams, the MP for Oldham East and Saddleworth and Shadow Work and Pensions Secretary, is backing calls for the blue badge parking scheme to be extended to cover people with non-physical conditions, like dementia and autism.
Currently the process for getting a blue badge can vary from one local authority to another as the national criteria is not clear on the how the scheme covers physical and non-physical conditions.
Abrahams, who has made creating a dementia-friendly Oldham one of her top ten priorities, said: "I'm backing the idea that people with non-physical conditions, such as dementia and autism, should be eligible for a blue badge to help them with parking."
The local MP, who is a Dementia Friend and was the first MP to become a Dementia Friends Champion, added: "As it stands the process for getting a blue badge can vary across the country as the national criteria is not clear on physical and non-physical conditions."
The Government is holding a consultation on the subject which runs until March 18, and Abrahams is keen that as many people as possible take part.
The link to the consultation is:
https://www.gov.uk/government/consultations/blue-badge-disabled-parking-scheme-eligibility-review/blue-badge-scheme-consultation-on-eligibility#what-will-happen-next
Abrahams continued: "I've been approached by a constituent, Barrie Wild, who has dementia. He went through the assessment process recently but was left drained and upset by the series of tests used by the current system.
"Creating a blue badge system that is the same across the country should make the assessments easier for people with these non-physical conditions and make it easier for councils too if they operate under one, clearly defined, process.
"This is why I'm appealing for everyone to take part in the blue badge consultation."
Age UK helped Barrie, from Dobcross, fill out an application form and he went for an assessment at the Link Centre in Oldham.
Barrie's wife and carer, Val Wild, went with him. commenting on the process, Val said: "Barrie was asked to do a walking test and informed that his walking was satisfactory, which we presume meant he was fit enough not to be eligible.
"One thing I'm really concerned about is that the carer is not allowed to have any input during the interview which shows no regard for the person being assessed and no understanding of the condition they have.
"By the time we got home Barrie was exhausted and upset. As Barrie's carer I should be able to help him deal with the assessment process and help the assessor understand what Barrie's needs are."
Barrie, who has poor balance and falls over sometimes, is keen to spread the word about the consultation and encourage people to take part.
He said: "I didn't qualify for a blue badge at my assessment but if new legislation is passed then maybe I would.
"I don't think people understand how difficult it is doing everyday tasks such as shopping or going to visit friends which can often lead to headaches and disorientation.
"Having a blue badge would make life so much easier for me and for Val who cares for me."