New hospital ward officially opened
Date published: 21 February 2018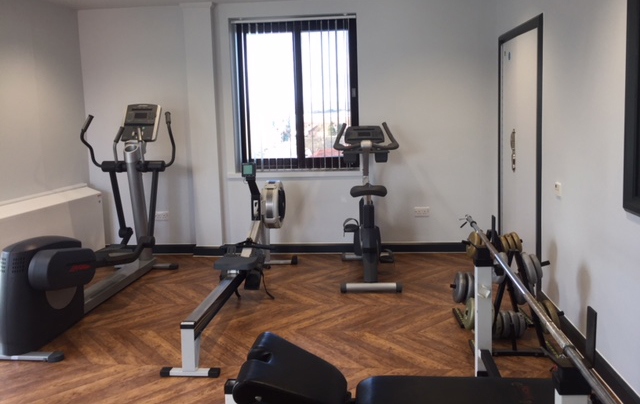 The new gym on Oldham's Aspen ward
The new ward at Parklands House, Royal Oldham Hospital has officially been opened.
A welcome day was held to declare the newly-refurbished ward, Aspen (formally known as Southside), formally open.
Guests included Trust Executives, non-executive directors and public governors. Also in attendance were Pennine Care staff and Oldham Clinical Commissioning Group representatives.
In March 2017, Pennine Care NHS Foundation Trust commissioned a programme of refurbishment for the two adult wards based at Royal Oldham Hospital, Northside and Southside.
Southside is now formally open, with Northside due to follow later this year.
To further reflect the revamp it was also decided to change the ward names.
Over the last five months, Pennine Care therapy teams have worked with patients in activity sessions selecting a variety of names.
These were narrowed down to six names and the Pennine Care Board chose the names 'Aspen' to replace Southside ward and 'Oak' to replace Northside ward.

The Aspen ward and Oak ward will join the already existing wards: Rowan, Cedars, Willows and Orchard House.
Vinny Nolan, In-Patient Service Manager, said: "We have redesigned our wards to be fit for purpose, of a high standard, safe and convey a therapeutic healing environment.
"The revamp includes: improved entrance to the wards, provision of single sex areas, upgraded bathrooms, refurbished lounge, dining and family spaces and access to outdoor space for Aspen ward.

"We have also improved air quality and ventilation to ensure a more comfortable environment for our staff, patients and visitors and upgraded our security features in line with CQC guidelines.

"As always, our aim will be to continue providing the highest standard of care and treatment for our patients in modern and comfortable facilities."
For more information about the service people can visit: www.penninecare.nhs.uk/oldhamparklandshouse