Health tech could bridge the gap to help identify dementia earlier
Date published: 21 February 2018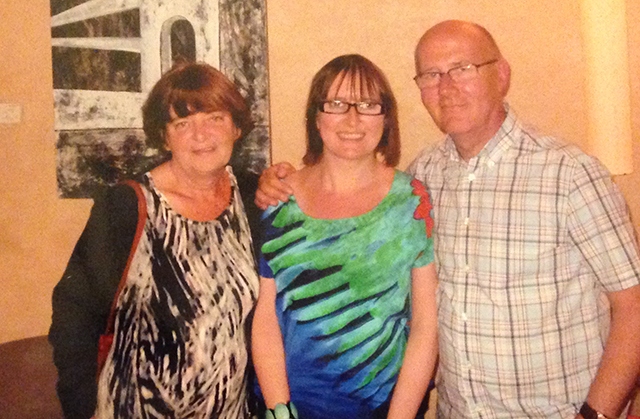 Denise Wallin (centre) with mum Barbara and dad Tony in happier times
Currently, there is currently no reliable biological or technological method of diagnosing dementia, but according to the AXA Health Tech & You State of the Nation Survey, more than three quarters (77%) of British adults would be willing to access emerging health technologies to detect early signs of dementia as part of regular health checks.
It took four years for Denise Wallin's mum to be correctly diagnosed with a rare form of dementia.
Barbara Wild, from Oldham, first started showing symptoms in her late 50s and was eventually diagnosed with dementia in 2012, aged 60.
She was first diagnosed with vascular dementia, but this was changed to behavioural variant frontotemporal dementia (bvFTD).
Frontotemporal dementia (FTD) is thought to account for less than five-per-cent of all dementia cases.
People living with FTD usually have changes in their behaviour and personality.
The 66-year-old now lives in a care home and is in the advanced stages of the disease.
Denise said: "The first signs something was wrong with my mum were when she started making mistakes at work, which as a credit controller wasn't great.
"It was really unlike her as she was always spot on with stuff. She also became quite distant and wouldn't engage with us, which again was very unlike her.
"She was first diagnosed with depression, but I was convinced it was something more and thought it might be dementia.
"She did the memory tests, but she sailed through them, as FTD affects behaviour more than memory in the early stages.
"My dad, my brother and me would take it in turns to take her to her GP and we had to nag and nag him to get her a scan.
"Eventually she had a brain scan and she was diagnosed with dementia, however she was originally diagnosed with vascular dementia.
"I read up about dementia and found the information about the different forms of dementia on the Alzheimer's Research UK website really helpful.
"As I learned more I felt the vascular dementia diagnosis just didn't add up.
"She was referred to a hospital consultant and her diagnosis was changed to FTD. It was a relief to finally get the diagnosis, although it was very sad as there is no cure.
"Although there aren't any treatments specifically for FTD, an early accurate diagnosis would have avoided a lot of stress and helped us prepare for what was to come.
"FTD has had a huge impact on the family – it adds a sadness to your life which you can't shake.
"Good things happen, amazing things sometimes but there is always a shadow there and it is my mum being ill.
"We are grieving for mum even though she's still with us."
Technology has huge potential to spot extremely subtle early signs of the disease.
Recent advances in technology coupled with huge strides in our understanding of diseases like Alzheimer's, mean the time is ripe to revolutionise dementia diagnosis.
For further information, check out the AXA Health Tech and You website at: www.axahealthtechandyou.com/.