Markets can still have a future in and around Oldham
Date published: 22 February 2018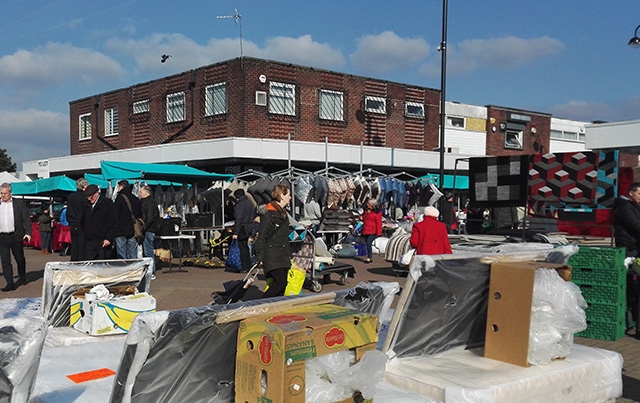 A busy day at Royton Market
Scroll down for Video
Markets in Oldham have always been popular with young and old, and though the 1960s, 70s and 80s 'glory days' of people travelling from miles around to visit the famous Tommyfield Market in the town centre now appear to be over, there is still a hunger for outdoor trading it would seem.
Just this week council leader Cllr Jean Stretton has written about her fond memories of Tommyfield Market from days gone by, and encouragingly she has again expressed her desire and determination to 'prioritise the building of a new fit-for-purpose Tommyfield as the first step in the delivery of the Oldham town centre masterplan'.
"The new Tommyfield would be built on the existing site and would end the difficulties presented by the current structure, like its sloping floor, and improve facilities with new features, like Wi-fi access, for example," Cllr Stretton added.
"We're already talking with the traders about an interim but potentially exciting temporary market option while building work takes place.
"This will be an indoor, bright, modern space providing a great place where people can continue to enjoy their shopping, chitchat, bargains and gossip."
That final sentiment appears to sum up the draw of the marketplace perfectly, but the Tommyfield isn't the only place to get your bargains in the town on a weekly basis.
There are in excess of 100 businesses operating between Monday and Saturday at Tommyfield presently, but Royton, Saddleworth, Shaw and Chadderton also showcase their markets on different days across the week, and all maintain that strong sense of community spirit - and they're busy.
Royton precinct was a hive of activity when the Chronicle visited the latest Thursday market, with shoppers making the most of the variety of goods on offer at approximately 20 stalls.
Fruit and veg stall holder Paul Smedley, who has traded on Royton for a decade or more, said: "Royton is well supported to be honest.
"We sell all our own produce, local stuff, it's more specialised. I think that's because people are more interested in what they're eating thesedays.
"We'll still be here in five years – I'll be surprised if we're not.
"There is a hunger for markets still. It's more niche nowadays, but the ones that are surviving seem to be getting stronger."
Clearance clothing trader Paul Ryder has also been working on Royton market for approximately 10 years.
"This is a good, busy market," he said.
"The good thing about Royton is that it's one day a week, that is where markets do succeed.
"There are a lot of good independent traders here who sell items that you can't get in the shops.
"There is still life in markets. People do enjoy them, and personally I do still class Royton as a market town.
"People love to come here, they love the banter and to have a chat, and they love to see what we've got on each week."
Check out the Oldham Council website to read about the great incentives on offer for would-be stallholders.
Meanwhile, Cllr Stretton closed her latest blog by adding: "I still believe markets can thrive in the future through hard work, investment, community buy-in and by retaining that special personal quality that made them a success for generations.
It will not be easy, of course, but I am determined to make the big decisions Oldham town centre needs – and addressing the future of Tommyfield Market is just the start of that process."
Traders Paul Smedley and Paul Ryder talk to the Chronicle about their experiences on Royton market