Icy blast continues to bite
Date published: 02 March 2018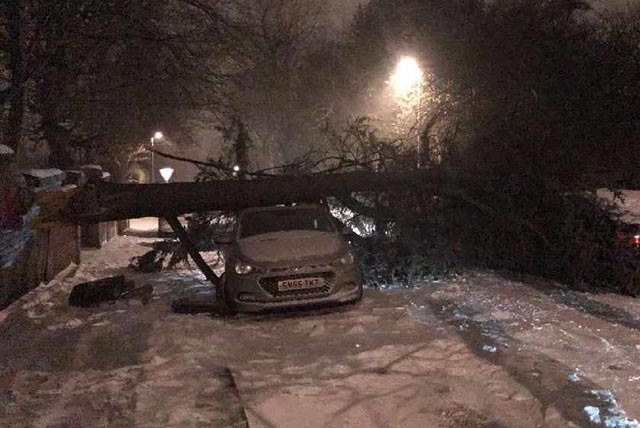 A tree fell onto cars in Werneth this morning
Scroll down for Video
Greater Manchester Police have asked that people do not drive unless it's absolutely essential.
Wind speeds overnight reached speeds of 90mph in places, causing treacherous driving conditions across the area.
A car fell onto vehicles in Oldham.
The photograph, taken this morning, shows a large tree falling onto cars on Wellington Street in Werneth.
Two cars were hit by the tree, and the road remains blocked.
There are no reports of injuries.
Meanwhile, a wall has been blown over at the side of the Alan Kirkham estate agents' officed in Royton.
Again, thankfully there are no reports of any injuries.
Due to an unsafe building near Oldham bus station, bus services 76, 148, 149, 183, 410 and 411 are expected to be affected by a temporary closure of West Street.
Services are likely to divert via Cheapside and St Mary's Gate while investigations there continue.
Drivers have been stranded on the M62 Eastbound, which remains closed between junctions 20 and 24.
A GMP statement read: "The strong winds will continue throughout the day and we ask that you don't travel unless it is essential.
"We are aware of drivers in the surrounding area who have been stranded for some hours due to snow and wind.
"The military have been deployed to support us and our partners in our efforts to clear the roads and get people to safety.
"Please check your local council website for information on road and school closures in your area.
"Live updates are available on the Highways England Twitter accounts by following @HighwaysNEAST and @HighwaysNWEST.
"We are filtering traffic off the M62 at junction 20 and diversions are in place although traffic is severely congested.
"If you are travelling from West Yorkshire towards Greater Manchester, please refer to West Yorkshire police and local authorities for travel updates."
Members of the community in Milnrow who have provided help and support to stranded drivers have been thanked by Greater Manchester Police.
Two rest centres were opened for motorists who are able to get there at Oldham Fire Station on Lees Road, and Butterworth Hall on New Street in Milnrow.
Vehicles have been unable to move on the A62 Huddersfield Road in Delph, with Police teams struggling to reach stranded motorists.
The A672 Ripponden Road, the A640 Huddersfield Road and the A635 Holmfirth Road in Oldham remain closed, but the A62 through Oldham has now reopened.
The Rochdale Metrolink line remains part suspended.
There are replacement buses in operation, but they are unable to stop at all stations between Rochdale and Oldham, and are experiencing long delays between the two towns.
Over 150 schools across Oldham, Rochdale and Tameside remain closed today.
Keep updated on the closure list by logging on to: www.oldham.gov.uk/winter
Travel bosses confirmed that 41 flights to and from Manchester Airport had been cancelled this morning.
Temperatures are set to remain below freezing - meaning the enormous amount of snow which has fallen on parts of Oldham, Rochdale and Tameside is not going anywhere.
Yellow weather warnings of wind, snow and ice remain in place today (Friday).
On a lighter note, young swimmers from the Oldham Seals club didn't let the bitter cold snap spoil their fun.
Watch our video to see them enjoying the snow in the only way they know.
Share your pictures and videos with us on our Facebook page, or on Twitter: @OldhamChronicle
Young swimmers from the Oldham Seals club made the most of the snowy conditions in the only way they know!