Colourful characters aiming to deter bad behaviour on the Metrolink
Date published: 07 March 2018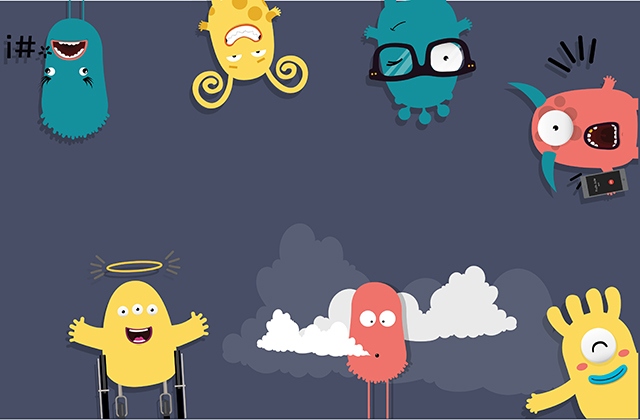 You might spot a few colourful characters on the Metrolink network
Metrolink passengers will spot a few colourful characters on the network over the next couple of months as a host of mischievous monsters take over the trams to encourage good and deter bad behaviour.
Among the monsters are foul-mouthed Rude Jude, Lazy Litter-lout Lenny and Crumby Chris, who leaves food all over the seats.
But they're not all badly behaved, like good-hearted Patient Penny, who waits for others to get off first.
The monsters are a part of a new Transport for Greater Manchester campaign that will appear at stops, adverts inside the trams, across social media and on the Metrolink Monsters website: www.metrolink-monsters.co.uk.
In a TfGM first, customers will also be able to channel their inner-monster on a platform-style game.
Choosing from one of the three good characters, they will have to navigate other monsters and their annoying behaviours and collect coins and Travelcards for extra points as they travel along the inside of a tram.
Gamers will then be able to post their scores on the leader board to win prizes. People will also be able to take a quiz to find out which Metrolink Monster they're most like to be in with a chance of winning a prize.
Danny Vaughan, TfGM's Head of Metrolink, said: "Across Metrolink our teams of ticket inspectors and TravelSafe officers are tackling fare evasion, crime and antisocial behaviour.
"But low-level bad behaviour, such as eating smelly food, swearing or sneezing without covering your nose, can be just as upsetting to others, and much more common.
"This campaign is a light-hearted way of getting the message across that by being considerate and thinking about our fellow passengers we can all do our bit to make travelling by tram a much more enjoyable experience."
Deborah Mills-Burns, Head of Customer Operations, added: "Remember, Metrolink is a shared space and how you behave affects others around you.
"Bad behaviour could also breach some of the network's byelaws, which may lead to prosecution.
"So don't get dealt a bad hand by being a Rude Jude, be more like Sweet Pete who's a real cool dude."
The campaign will run until Friday, April 22.
To play the game, or to find out which monster you're most like, visit www.metrolink-monsters.co.uk.