MP's special visit from Annie statue sculptor
Date published: 08 March 2018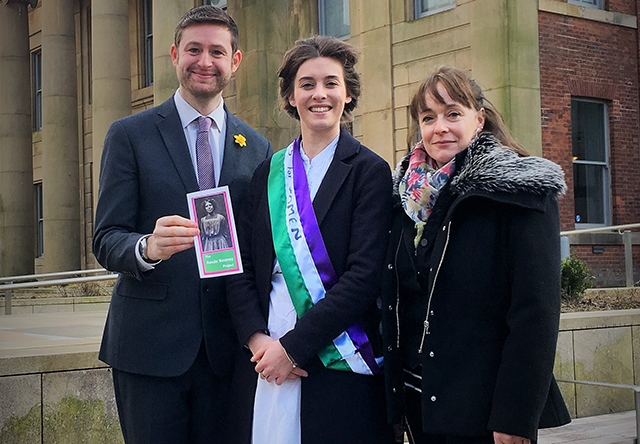 Jim McMahon MP marked International Women's Day by inviting sculptor Denise Dutton (right) to Oldham
Oldham West and Royton MP Jim McMahon has marked International Women's Day today, and last month's 100th anniversary of women first being given the vote, by inviting sculptor Denise Dutton to Oldham to see the site of the Annie Kenney statue in the town centre.
Annie was a key figure in the suffragette movement, and prior to that she lived and worked in Oldham.
She was the only working class woman to hold a senior position in the 'Women's Social and Political Union' (WSPU), which spearheaded the campaign for universal suffrage under the banner 'Votes for Women'.
Dutton, meanwhile, is an outstanding sculptor, with an attention to detail and skill which creates beautiful installations.
She was the artist behind the Ben Brierley statue, Lancashire dialect poet in Failsworth Pole, and it was there McMahon met her along with John Crompton from the Failsworth Historical Society.
Taking visits to Derbyshire to see the clay being worked on gave McMahon an insight into the skill which goes into creating something very special.
The Oldham West and Royton MP said: "It was fantastic to have Denise visit Oldham on International Women's Day, as we move closer to having a statue of our suffragette Annie Kenney in the town centre.
"Denise is an outstanding sculptor, who brought the statue of Ben Brierley to life and helped inspire the local area.
"I hope Annie Kenney will have the same impact on Oldham town centre.
"I hope it inspires us all to fight for an equal society and that we remember the rights we enjoy today were hard won. They should be guarded and built on."
People across the country have donated to the statue project, while a special thanks went to Stan Chow, an artist from Manchester who donated limited special edition prints that are available to purchase as a contribution to the project.
Local schools such as The Oasis Academy and The Hulme Grammar School have held non-uniform days to raise significant funds towards the project.
The Annie Kenney project can now be commissioned, following talks with Oldham Council to discuss the practicalities.