Penny puts her best paw forward at Crufts
Date published: 12 March 2018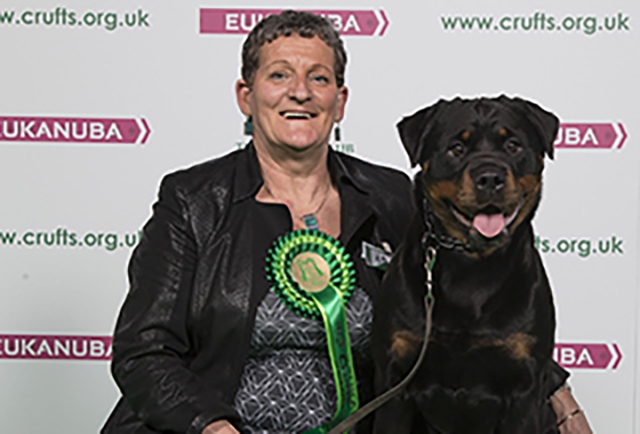 Janis Horton is pictured with two-year-old Penny
by Nathan Jacobs
It was a case of every dog having its day for Rottweiler Penny as she secured a prestigious prize at Crufts 2018 alongside her Oldham owner Janis Horton.
Two-year-old Penny put her best paw forward at Birmingham's NEC, suitably impressing judges to scoop the Best of Breed award.
That made it a Crufts to remember for her 61-year-old owner Janis, of Chadderton, who joined thousands of other canine lovers in descending on the West Midlands for 127th edition of the world's largest dog show.
An estimated 22,000 pooches visited the NEC during the four-day event, with a record 3,623 four-legged-friends from 49 countries vying for the chance to win the coveted Best in Show.
Visitors learnt about 200 different breeds at the Discover Dogs zone, crossbreeds competed for the Scruffts crown and the Friends for Life event reminded people about the truly inspiring and unique stories that show dogs at their absolute best.
And for customer administrator Janis, there was no wiping the smile off her face as her beloved pet enjoyed her moment in the spotlight.
"I am over the moon and completely ecstatic," she said.
"The dog has been doing well and I always say that you never know what is going to happen.
"Luckily this was my day and now I have a best of breed winner at Crufts, it's such a great feeling."