UPDATED: MP and union reacts to 'devastating' news of Shop Direct's plans to close two Oldham centres
Date published: 11 April 2018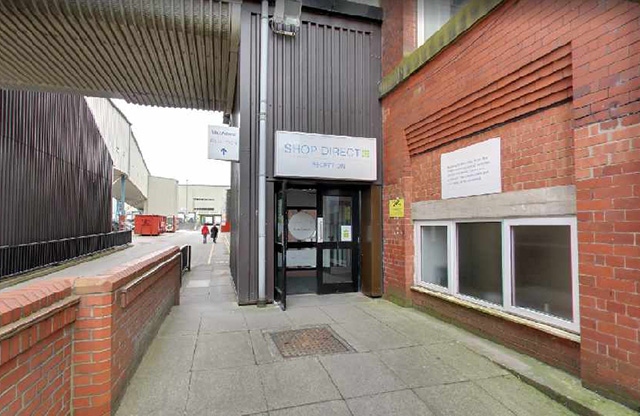 The Shop Direct site on Linney Lane in Shaw
Emotions are running high after digital retailer Shop Direct confirmed plans to close its three Greater Manchester fulfilment centres - two of which are in Oldham - in a move which could affect about 2,000 jobs in total.
The company has operations at Linney Lane in Shaw (Shop Direct's national distribution centre), the Raven mill in Chadderton, and Little Hulton, near Bolton.
Combined, the three occupy 1.53 million sq ft of space and employ 1,177 permanent employees and 815 agency workers.
As part of an 18-month project, Shop Direct reviewed the fulfilment sites and concluded that limited accessibility, layout and loading restrictions, coupled with a lack of space, mean that they will not meet the group's "future operational ambitions".
The company added that it needs a "new, purpose-built and automated facility in a central, well-connected location that can accommodate all one-man fulfilment and returns operations on one site, and that provides room for continued expansion".
As such, Shop Direct will begin exiting the three Greater Manchester centres from mid-2020 and will relocate to a 500,000 sq ft distribution centre in the East Midlands, which will be fully operational by 2021.
Redundancies are anticipated as a result of the closures, while about 500 permanent roles will be created at the new base.
Shop Direct has entered into consultation with Usdaw, the recognised trade union, and will also be consulting with colleague representatives.
Derek Harding, interim group chief executive of Shop Direct, said: "This is a tough day for the business and we know how difficult this news will be to hear for our teams in Shaw, Little Hulton and Raven.
"However, these proposals are necessary for our future and to enable us to continue to grow and meet rising customer expectations.
"We take very seriously our responsibilities to our colleagues, many of whom have been with us for a long time and who work tirelessly to deliver for our customers.
"We are working alongside Usdaw, our recognised trade union, and will listen carefully to what they have to say.
"We'll also work closely with local authorities and community leaders to make sure this process is carried out as fairly and sensitively as possible for our colleagues.
"We're announcing this now to give our colleagues the best possible opportunity to prepare for the change.
"Over the next two to three years, we'll be partnering with local and national organisations to provide our colleagues with tailored advice and training, including career skills, access to financial planning and vocational courses to support re-training. It's also our plan to offer apprenticeships in in-demand skills across our existing operational sites.
"Our priority is to provide a fair outcome for our team and we'll do everything we can to support colleagues through this transition."
Oldham East and Saddleworth MP Debbie Abrahams, whose constituency covers Shop Direct's Shaw facility, is dismayed at the news of the site's planned closure.
She said: "This is devastating news for the Shop Direct staff and their families and the anticipated redundancies will have a dreadful effect on the local community.
"I'm bitterly disappointed that Shop Direct failed to engage with the council or myself before this morning about their plans to move to the East Midlands in the 18 months that this has been planned.
"I'll be working closely with the council, unions and Mayor of Greater Manchester's office to ensure that Shop Direct management are coordinating properly with trade union representatives and that they keep their commitment to support staff impacted by these anticipated redundancies with relevant financial support, training and advice.
"I'll also be writing to the Prime Minister, and government ministers to demand they are fully engaged in the process of supporting my constituents through this difficult process."
Union Usdaw (Union of Shop, Distributive and Allied Workers) have also had their say, describing the news from Shop Direct as 'very sad'.
Usdaw Divisional Officer Mike Aylward said: "Our members are understandably shocked and devastated by today's announcement of the proposed closure and relocation of the Shop Direct sites.
"The company has been providing employment for families in the North-West for many decades and these sites have different generations of the same families working there.
"The impact of closures will be huge on hundreds of families, local businesses and the local communities.

"We are seeking an urgent meeting with the company to look at the business case for the proposed closures and we will look to mobilise the support of local MPs and councillors.

"The Union has officials onsite to provide help, advice and support at this very difficult time.

"Today's announcement is also a very sad day for the North-West as Shop Direct was created from the merger of the iconic mail order and retail giants, Littlewoods and Great Universal Stores and these are the company's last remaining fulfilment sites in the region."
Oldham Council is shocked and disappointed that Shop Direct workers are set to lose their jobs.
The local authority's priority now is to support all those affected by the closures.
Helen Lockwood, Executive Director Economy, Skills and Neighbourhoods, said: "This announcement has come out of the blue and we feel terrible for all those affected.
"The news that a major employer plans to leave is a blow to the borough.
"We are keen to have discussions with the company as soon as possible in order to find a solution that supports our local community.
"Our Get Oldham Working team are ready to offer our help and support to staff.
"We will work to try and find the affected workers new jobs, but we'll also be providing practical support such as help with CVs and interview practice.
"We'd urge anyone who will be affected to contact the GOW team."
The GOW Team can be contacted on 0161 770 4674 or at: employability@oldham.gov.uk
You can also call into the team's offices at Metropolitan Place, Hobson Street, Oldham, OL1 1TT – across the road from the Job Centre – weekdays between 9am and 4pm.