Influential group promise continued support for Shop Direct employees
Date published: 18 April 2018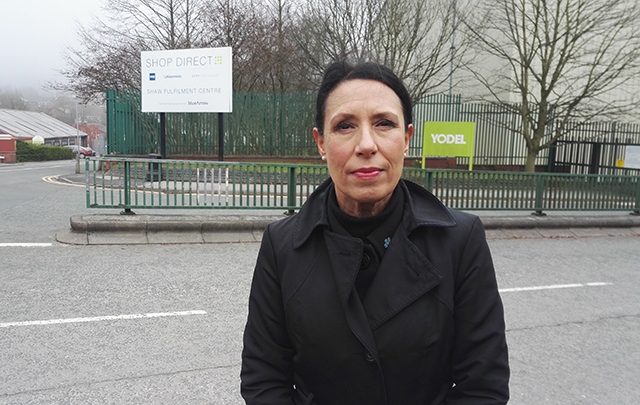 MP Debbie Abrahams at the Shop Direct site in Shaw. She has today (Wednesday) raised the issue of Shop Direct job losses with Prime Minister Theresa May at the Houses of Parliament.
An influential 10-strong group which includes Oldham's two MPs, the Council leader, Mayor of Manchester Andy Burnham and high-ranking union officials, have joined forces to issue a statement of support for employees set to be affected by Shop Direct's planned closure of three huge North-West sites.
Bosses at Shop Direct, which owns Littlewoods and Very.co.uk, will be closing their three fulfilment centres in Shaw, at Chadderton's Raven Mill, and in Little Hulton, near Worsley.
It means almost 2,000 jobs are on the line, along with many smaller businesses who rely on the warehouses for passing trade throughout the day.
Shop Direct will begin exiting the three Greater Manchester centres from mid-2020 and will relocate to a 500,000 sq ft distribution centre in the East Midlands, which will be fully operational by 2021.
Redundancies are anticipated as a result of the closures, while about 500 permanent roles will be created at the new base.
The statement, issued jointly by Mr Burnham, Oldham MPs Debbie Abrahams and Jim McMahon, Oldham Council leader Jean Stretton, Usdaw area organisers Sue Ianson and Wendy Murphy, Mike Aylward, Divisional Officer, Usdaw, Barbara Keeley, MP for Worsley and Eccles South, Salford City Mayor Paul Dennett and Cllr Allen Brett, from Rochdale Borough Council, read: "Last week's news of Shop Direct's planned relocation and anticipated redundancies is a bombshell for hundreds of employees working in Shaw, Little Hulton and Chadderton.
"We can well imagine how devastated all 1,992 employees must be feeling at this time.
"It was essential to bring together all parties affected by the proposed relocation to the East Midlands round the table at the Greater Manchester Combined Authority (GMCA) at the earliest opportunity.
"As such we met in the Mayor's offices on Friday, April 13.
"Firstly, the Mayor, the trade union, local authorities and local Members of Parliament, had no prior notice of this announcement and conveyed their disappointment to the company of this.
"Secondly, we put an offer on the table to explore whether there was any possibility that Shop Direct might reconsider its decision, perhaps relocating to sites elsewhere in the city-region.
"Oldham Council tabled alternative proposals of a site of a similar size, accompanied by a favourable business package, at Broadway Green, Chadderton.
"It was disappointing that there was no willingness to engage on these proposals.
"Regrettably, it quickly became apparent that Shop Direct have committed to their East Midlands site and their plan of a staged transition starting in two years' time.
"Given that they appeared to have made their decision, the meeting then looked into getting the best possible support for the workforce, and securing a future for the sites affected.
"Many of Shop Direct's staff have worked for the company in one form or another for many years, in some cases several decades and for a number of generations.
"It is a business with its roots deep in the North West, and we want to reassure employees that this decision is in no way a reflection of the workforce's capability or dedication.
"The professionalism and commitment from Shop Direct's employees has been second to none.
"Usdaw will be holding the company to their legal obligations to engage in a meaningful consultation and the union's test of meaningful is that they fully explore any options of relocating to a nearby site.
"Moving to the Midlands is not a done deal, the staff through their trade union are entitled to a say in the future of the business.
"Usdaw recognises that even if the company decides to relocate within Greater Manchester there are still likely to be job losses due to technological changes, so we welcome the efforts that are being made to support staff whose jobs are at risk.
"The Mayor put a proposal to the meeting to establish a taskforce, led by The Growth Company, which was agreed by all parties, including both Shop Direct and the Department for Work and Pensions, and we were grateful for this.
"We will continue to do all we can to support the 1,992 people affected by this abrupt decision and to maintain jobs on the sites affected, albeit through new employers."
Further to the statement (above), Oldham East and Saddleworth MP Mrs Abrahams has today (Wednesday) raised the issue of Shop Direct job losses with Prime Minister Theresa May at the Houses of Parliament.
Mrs Abrahams said: "Last week Shop Direct announced that they are closing their Greater Manchester sites with the loss of 2,000 jobs, including nearly 1,400 in Shaw in my constituency.
"There was no prior warning or discussion with staff, unions, the Council or myself.
"Given that this is about the ascendance of automation, what specific measures is the Government putting in places to support my constituents and will the Prime Minister meet with me and colleagues to discuss this; and what she is doing to mitigate against the negative impacts of automation on the Labour Market more generally?"
The Prime Minister responded to Mrs Abrahams' question by acknowledging that this is a 'time of great concern for Shop Direct workers', and promising that she would ask the Business Secretary, Greg Clark MP, to meet with Mrs Abrahams and colleagues following the special task force set up at last week's aforementioned meeting.
Usdaw union Divisional Officer Mike Aylward said: "Debbie Abrahams has rightly raised important issues around the effects of the introduction of new technology with the Prime Minister and we hope the Business Secretary will take the matter seriously.
"Our members at Shop Direct are at the forefront of this issue, as they face seeing their Greater Manchester workplace to the East Midlands with a net loss of around 1,500 jobs.
"Usdaw reps and officials are preparing for the start of a statutory period of meaningful consultation with the company, where we will interrogate the business case and seek alternatives to their devastating proposals.
"We welcome the assistance of local MPs and councillors, along with the Greater Manchester Mayor.
"We believe there is a role for the Government to intervene and support the staff facing redundancy."
Meanwhile, Oldham West and Royton MP Mr McMahon has confirmed that he also intends to encourage further discussions on the Shop Direct situation in Parliament.
Mr McMahon added: "News that Shop Direct will close three centres has been met with shock and anger by local people.
"The impact of this cannot be underestimated and the response in support of the people affected must reflect this.
"The closure of Shop Direct has brought into sharp focus the need for Oldham to secure jobs and ones which are accessible to local people.
"We need improved transport across Greater Manchester, so that more employment opportunities are made available.
"But we also need Government led investment to attract employers to Oldham.
"Oldham is working hard to attract investment but without meaningful resources from government it's often an uphill battle.
"I have returned to Parliament this week and requested that this issues be discussed at the highest possible level."