New site boost for First Choice Homes maintenance
Date published: 03 May 2018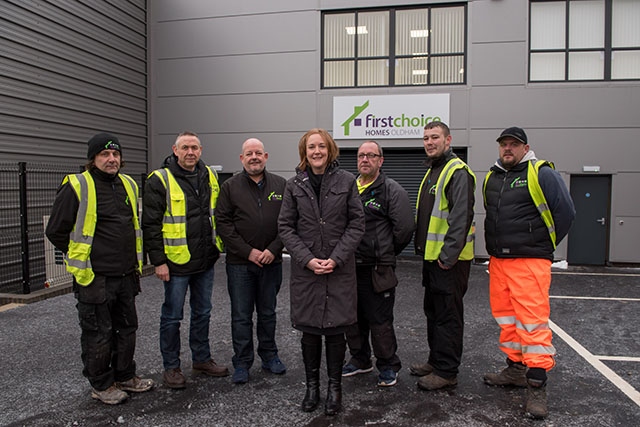 Siobhan McCoy, First Choice Homes' Property Care General Manager, with some of her team at the new base
First Choice Homes Oldham's property repairs, grounds maintenance and caretaking services have a new operations facility.
After a four-year search for a suitable location, the new building has been built at Primrose Bank, just off Ashton Road, on a site owned by the Meridian Development Company.
Securing the site has meant that around 180 jobs will remain in Oldham and there are hopes that the new development will lead to further regeneration in the area.
First Choice Homes said the new premises, called Primrose Place, will complete the transformation of its repairs and grounds services, which will be relocated from an old site at Copster Hill Road.
The new building will provide high quality facilities for staff, is closer to First Choice Homes' town centre head office, and will present a vibrant, positive image at an important gateway into central Oldham.
Siobhan McCoy, First Choice Homes' Property Care General Manager, said: "When we started looking for new premises for our town centre HQ, we were also on the look-out for a site to develop a new facility from which to operate our repairs service.
"However, finding somewhere with the right mix of warehousing space, offices and vehicle parking proved to be a major challenge.
"Over a four year-search, we viewed lots of sites in Oldham and were concerned that we might have to move over the borough's border.
"We looked at areas such as Middleton and Rochdale but wanted to stay in Oldham.
"Site availability was a challenge as our needs are quite unique.
"However, after discussions with Oldham Council they came to us with this site, which meets all our needs and also enables us to move close to our head office."
Meridian Development Company owns the wider site around Primrose Bank and the new facility could spark wider regeneration of the area.
The land was previously unused for around 15 years.
The new building consists of two parts.
There is a single storey-height warehouse with open plan offices on the first floor and a full-height warehouse behind.
Other facilities include meeting rooms, dining area and showers, meaning a better working environment and welfare facilities for staff.
The land was zoned for industrial and commercial development and Meridian Development Company received planning permission for the new facility.
Siobhan said First Choice Homes had worked with Oldham Council and Meridian Development Company to consult with local residents about plans for the new site adding: "It's really important that we work well with neighbours and we held a meeting to explain our plans and how we operate, and listen to their comments.
"We operate our existing facility from 7am, but we are changing the hours to a 7.30am start when we move.
"Furthermore we control our fleet of vehicles with tracking equipment to monitor movements and also driver behaviour such as idle times and any over-revving of engines, in line with good practice.
"Digital working means that our repairs operatives receive their work electronically onto mobile devices, so they are able to go straight to site.
"We will also avoid HGV deliveries early in the morning and during school starting and finishing times."
Landscaping will include attractive planting and scented climbing shrubs along the boundary as agreed with the local community, and FCHO have offered residents the opportunity to be involved in the planting.
Construction work started in November 2016 using designs by HNA Architects, based at Hollinwood Business Centre. Construction of the building shell and car park was by Stalybridge-based Berkeley Construction with interior fit-out being done by Meridian Development Company's sub-contractors.
A number of local businesses including Shaw's Electrical Services, Datavox Solutions Ltd, GB Alarms and Ideal Heating have worked on the development, further contributing to the local economy.
The project has also provided training opportunities for First Choice Homes' electrical apprentice Ayyaz Ahmed, who is one of three apprentices that have worked on the project.
Overall the new facility will be used by around 180 staff, with up to 40 office-based people working from there.
For an in-depth report on First Choice Homes and Primrose Place, see the new Oldham Business Edge magazine.