Support the life-savers by signing up for Race for Life
Date published: 17 May 2018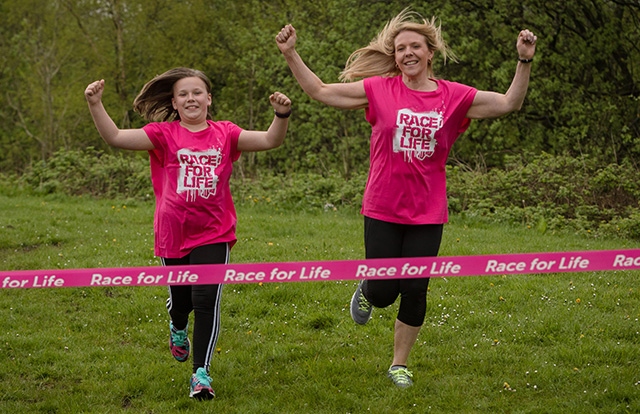 Eva and mum Jill recreate the 'finish line feeling' experienced at Race for Life
A Moorside youngster is calling on women to support life-saving research - by signing up for Cancer Research UK's Race for Life and joining the fight against the disease.
Eva, aged 10, and mum Jill (39) have recreated the 'finish line feeling' experienced at Race for Life to inspire women to enter the 5k event at Alexandra Park in Oldham on Sunday, June 24.
Eva will be special guest at Race for Life Oldham and will appear on stage with her mum before sounding the starter horn, sending participants on their way and will be taking part herself.
She and her family are keen to highlight the crucial connection between taking part in Race for Life and helping save lives by funding work into the prevention, diagnosis and treatment of the disease.
Eva, who attends St Joseph's RC Primary School, was diagnosed with Wilms' Tumour in 2016.
Mum Jill suspected something was wrong when Eva began having tummy aches and headaches.
Then Eva had a fall at school after her legs gave way.
She went to A&E but medics thought it was a virus.
A couple of weeks later Eva was sick at school twice and went to her GP.
The GP examined her tummy and said it felt like her liver was swollen so she was rushed into Royal Oldham Hospital for tests.
Eva had an enlarged mass and she was sent to North Manchester Hospital for an emergency ultra sound.
Mum Jillian said: "When the results came back the doctor came in with two nurses and asked if me and Eva's dad Anthony could talk somewhere private.
"One nurse put a box of tissues on the table and then they told us they'd found a 15.5 cm malignant tumour on Eva's right kidney.
"We went back and told Eva and her big brother Bradley because we believe in being honest with them. They both broke down in tears.
"We were due to transfer to Royal Manchester Children's Hospital that evening but they let us stay a bit longer while we tried to get our heads around everything.
"One of Eva's teachers who had had leukaemia came and tried to prepare her for what she would see on the cancer ward - Ward 84 – at Royal Manchester Children's Hospital.
"When we got there the next day, nothing could have prepared us for it.
"I saw a mother pushing a drip walking her bald, frail and pale faced child to the toilet – five weeks later that was me and Eva."
A biopsy confirmed Eva had Wilms' Tumour. She faced six weeks of chemotherapy.
Eva always had lovely long hair but she wanted it cut like Dora the Explorer – one of her favourite cartoons.
Once she was diagnosed Jill said she could have her hair cut into a bob and Jill had hers cut too.
They donated their hair to make wigs for children affected by cancer.
A few weeks later Eva's hair fell out due to her chemotherapy treatment.
Eva (above) and her mum organised a wear a crazy hat day at St Joseph's to raise money.
After chemotherapy, Eva had a five-hour operation to remove the tumour and her right kidney.
Jill describes the surgery as the longest five hours of her life.
Doctors said that Eva was fortunate her cancer had been found at an early stage.
She had a further six weeks of chemotherapy.
The night before Eva's surgery Jill found out she was pregnant which gave the whole family a boost.
Eva now dotes on baby sister Katya.
Eva, who has a 12cm scar on her tummy after the surgery, is now a picture of health and has returned to Ukrainian dancing competing at a national level.
On May 12 Eva marked two years cancer free and she will continue having regular chest x-rays to ensure she remains that way.
Jill added: "We are so proud to sign up to Race for Life.
"The family's experience means we understand all too clearly why Cancer Research UK's work is so important.
"It's thanks to all the mums, grans, daughters and friends who take part in Race for Life and help fund vital research that Cancer Research UK's scientists and doctors can continue to make strides forward in their efforts to beat the disease."
It is hoped 800 women will sign up for Race for Life Oldham and raise £36,000.
Cancer Research UK's Race for Life, in partnership with Tesco, is an inspiring women-only series of 5k, 10k, Pretty Muddy, Half Marathon and Hiking events which raise millions of pounds every year to help beat cancer sooner by funding crucial research.
Money raised through Race for Life helps Cancer Research UK to fund long-term research and pioneering trials, leading to new tests and kinder treatments which could save the lives of people across the North West and beyond.
Cancer Research UK research and clinical trials have helped doctors use the drug tamoxifen to its full potential, revolutionising treatment and prevention of breast cancer and boosting survival.
And the charity's early research work helped develop cisplatin, which is now used to treat testicular and other types of cancer.
Jane Bullock, Cancer Research UK spokesperson for Oldham, said: "We'd like to thank every woman who laces up her trainers and takes her place at the start line at Race for Life because their participation and contribution is so important.
"One in two people in the UK will be diagnosed with cancer at some point in their lives and we couldn't continue our life-saving work without the support of the public.
"Money raised through Race for Life is helping to drive research to help beat over 200 different types of cancer - that's why every person who crosses the finish line can make a real difference."
Thanks to the generosity of its supporters, Cancer Research UK was able to spend more than £28 million last year in the North West on some of the UK's leading scientific and clinical research.
Jane continued: "We're calling on women of all ages and abilities to take part in Race for Life and help raise vital funds for research.
"Whether they walk, jog or run their way around the course, our participants will all experience the unique 'finish line feeling' and know they've played a crucial role in the fight against cancer.
"Our aim is that one day everyone will survive cancer and the more women who Race for Life, the sooner that day will come.
"Money raised - whether it's £10 or £100 - will enable Cancer Research UK scientists to continue their ground-breaking work, providing better tests and treatments for patients and helping more men, women and children survive the disease."
To enter Race for Life today visit: www.raceforlife.org or call 0300 123 0770.