Pinnacle Learning Trust make their mark in aid of Maggie's
Date published: 23 May 2018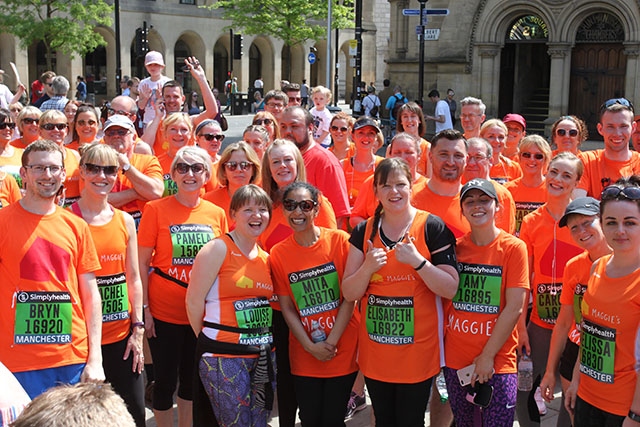 More than 120 staff from The Pinnacle Learning Trust took part in the Manchester 10K
More than 120 dedicated staff from The Pinnacle Learning Trust (The Hathershaw and Oldham Sixth Form Colleges) took part in the Manchester 10K on Sunday.
As well as going the distance in aid of keeping fit and active, the enthusiastic group of PLT staff were running and walking with the aim of raising as much cash as possible for the Maggie's Oldham cancer care centre, and so far almost £10,000 has been raised!
Maggie's is a cause very close to the heart of Oldham Sixth Form College prinicipal Jayne Clarke, who remains eager to raise awareness and promote the charity after her mum, Chris Nuttall, experienced first-rate support at her local centre before she died.
Jayne, who is also the PLT's executive prinicipal, said: "It was a fantastic event to bring all the staff together and help get us all a bit fitter.
"People were really keen to get involved, regardless of whether they'd been involved in any athletic activity previously.
"Everyone was really keen to get behind it and give it their support.
"As it happened there were roughly the same number of participants from both organisations, and it was about us collectively taking part.
"We were all there in our Maggie's t-shirts. It was just incredible to be taking part.
"We all met in Albert Square before competing, walked down to the start-line together, and it was quite emotional.
"The atmosphere was quite incredible, and then there was the minute's silence before the race to remember the Arena attack.
"We set off and some were walking, some were running, and some were going for personal bests.
"Everyone was cheering everyone on, though, and already quite a lot of staff have been saying 'same again next year'. I'm definitely up for it again."
Dave McEntee, Prinicipal at Hathershaw College (pictured above with Jayne Clarke), added: "We did something similar two or three years ago as part of our 60th anniversary celebrations when around 60 of us ran the Manchester 10k, and that really brought together the staff.
"There was a really good vibe surrounding that event, and the build-up to it, and this was no different.
"There were a few sore legs in school on Monday morning, but the fact that we've raised a significant amount of money for such a great cause in Oldham just adds to the whole thing really.
"We've started to do quite a few bits and pieces with Maggie's recently.
"Laura, who is in charge of the fund-raising there, has been into school a few times for assemblies.
"We've started to forge a real link, so it just seemed like a natural thing to just align all our fund-raising to Maggie's.
"It was just a brilliant day. The crowds were superb, really encouraging, and to be honest I've never experienced anything like that before.
"They did help us get through the course."
The PLT team initially set a fund-raising target of £5,000, but despite already smashing that total out of the water, you can can still donate through JustGiving.
Donating is simple, fast and totally secure.
Simply log on to: https://www.justgiving.com/companyteams/pinnacle and make your mark as well.