New Mayor for 2018/19 installed
Reporter: Simon Smedley
Date published: 23 May 2018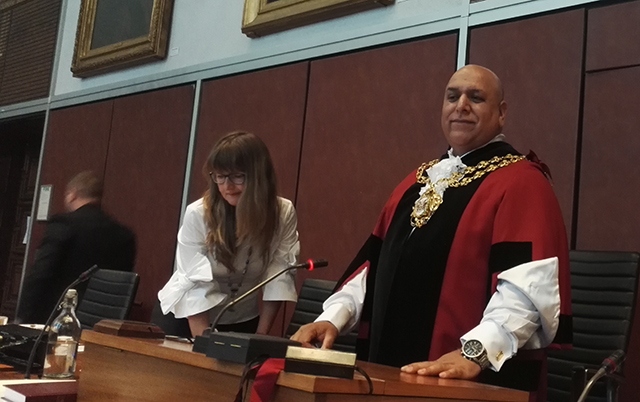 So proud: Cllr Javid Iqbal shows off his chains of office
Werneth ward councillor Javid Iqbal has been officially installed at the new Mayor of Oldham.
The Council chamber at the Civic Centre was packed today (Wednesday) as Cllr Iqbal was sworn in to become the 45th Mayor of the borough.
He takes over from Cllr Shadab Qumer, who has enjoyed a hugely successful 12 months in the post.
During his Mayor Making Ceremony acceptance speech made in front of fellow councillors, family members and members of public sat in the gallery, Cllr Iqbal said: "I'm big, I'm bold, and I want everyone to join me in looking to inspire to aspire all Oldhamers as we move forward.
"We all need to challenge ourselves, and help everyone around us to make a difference in our everyday lives.
"We need excel in health and well-being, and I'm determined to carry on the good work done by my predecessor over the past year."
Born in Kashmir, Cllr Iqbal first arrived in the UK as a three-year-old back in 1967.
His late father set up Oldham's first Asian grocery store, on Manchester Street, soon after, but after working there and dropping out of College, Cllr Iqbal decided to retrain and eventually secured a BA Honours degree in IT from the Manchester Metropolitan University during the 1990s.
He has since enjoyed a successful career in the IT business, and will now take 12 months out of his current role at the British Council so he can fully concentrate on his Mayoral duties.
A former Security Supervisor - or 'doorman' - at clubs in Manchester, Cllr Iqbal was first elected in Werneth in 2007.
An ex-pupil at Greenhill and Hathershaw secondary schools, Cllr Iqbal will be joined in his year of office by wife Tasleem - a master seamstress - and daughter Sam.
He has three children and seven grandchildren.
A keen cyclist and walker, Cllr Iqbal has chosen Cllr Adrian Alexander - a former Oldham rugby league star - as his Deputy.
The new first citizen of the borough's theme of office this coming year is Health and Well-Being, and his chosen charities are Dr Kershaw's, the Oldham Action Fund, Maggie's Oldham, MIND and St Thomas's Church.
He revealed details of his 'Mayor's 1,000' challenge, whereby he hopes to persuade 1,000 people to donate £100 across the course of the year towards his chosen charities.