Change of direction for two town centre streets
Date published: 24 May 2018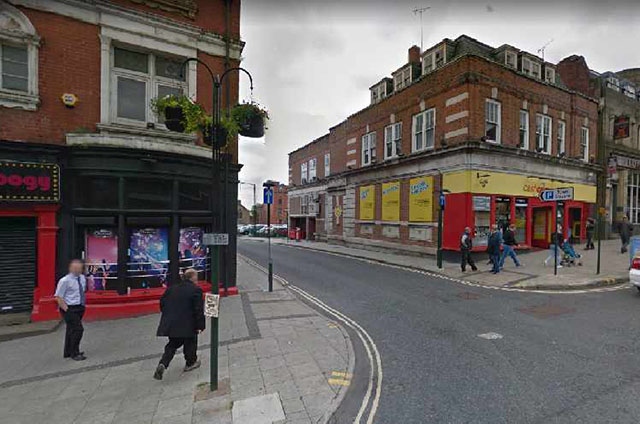 Picture courtesy of Google Street View
Oldham Council is informing motorists and pedestrians that the flow of traffic on two town centre streets is to change direction.
The current one-way traffic direction of Queen Street and Retiro Street will be reversed.
The existing arrangements are: Queen Street runs one-way from Yorkshire Street to Union Street and Retiro Street is in the opposite direction.
From Monday, June 4 the Queen Street one-way will run from Union Street to Yorkshire Street, with the Retiro Street one-way running from Yorkshire Street to Union Street.
Councillor Arooj Shah, Cabinet Member for Neighbourhood Services, said: "These reversals are a return to the previous arrangements, which were changed prior to the regeneration schemes around the Old Town Hall development.
"Since then our highways staff have monitored traffic flow in the town centre and have identified two issues – a large number of people are driving up Retiro Street and turning left at the top, which is an illegal manoeuvre because Yorkshire Street is one way.
"When wide vehicles were parked in the bays on Retiro Street we received reports that vehicles were mounting the kerb because they were struggling to get past due to the width of the road.
"There are houses and businesses that border the pavement so we want to guard against any potential accidents.
"Reversing the traffic flow on this street means drivers will naturally keep to the right when driving down it.
"We apologise in advance for any inconvenience the work may cause."
As part of the work, Retiro Street has been resurfaced and we've removed on street parking bays where the existing road is narrow and constructed footpath build outs, making it easier to drive along.
So remedial work can be carried out prior to the changes the two roads will be closed to traffic on May 31 and June 1.