Join Council chief Carolyn at the Race for Life
Date published: 14 June 2018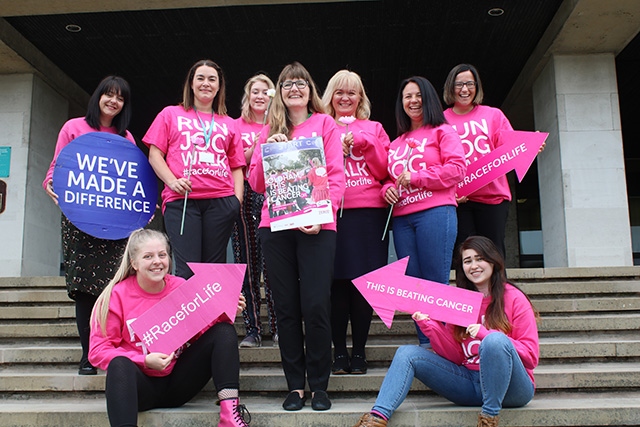 Council Chief Executive Carolyn Wilkins (centre) with her Race for Life team-mates
Oldham Council's Chief Executive and NHS Oldham CCG Accountable Officer, Dr Carolyn Wilkins, and a team of Council staff are gearing up to take part in Cancer Research UK's Race for Life when it returns to Oldham on Sunday, June 24.
Carolyn will also be taking to the stage to share important health messages on cancer prevention and early diagnosis with the women of Oldham.
She said: "We're calling on women of all ages and abilities in Oldham to take part in Race for Life and help raise vital funds for research.
"Race for Life fits really well with our agenda for improving health outcomes across Oldham and the work that we are doing to support people to improve their physical and mental wellbeing.
"Our Get Oldham Active programme helps even the most inactive find an activity suitable for them, and I'm pleased to say the team will be on hand for residents to find out more, alongside colleagues from Get Oldham Growing and Positive Steps.
"As I am also chair of Greater Manchester's Population Health Board, I'm very much focused on prevention and early intervention.
"The more we can promote awareness, increase prevention and early detection the better."
Carolyn added: "I'm very proud of my colleagues who are taking part in our staff team, along with members of our Youth Council.
"I hope to encourage more women to join us on what is set to be a very rewarding day."
One in two people in the UK will be diagnosed with cancer at some stage in their lives, but the good news is more people are surviving the disease now than ever before.
Cancer survival in the UK has doubled since the early 1970s and Cancer Research UK's work has been at the heart of that progress.
Cancer Research UK's Race for Life, in partnership with Tesco, is an inspiring women-only series of 5k, 10k, Pretty Muddy, Marathon and Hiking events which raise millions of pounds every year to help beat cancer sooner by funding crucial research here in the North West and beyond.
Over 600 women are signed up to the event, and there is still time to join them by signing up at raceforlife.org. There will also be limited spaces available on the day.
Thanks to the generosity of its supporters, Cancer Research UK was able to spend more than £28 million last year in the North West on some of the UK's leading scientific and clinical research.
Join Carolyn and her team and sign up for Race for Life now at: raceforlife.org or call 0300 123 0770.