Celebrate 70 years of our wonderful NHS
Date published: 14 June 2018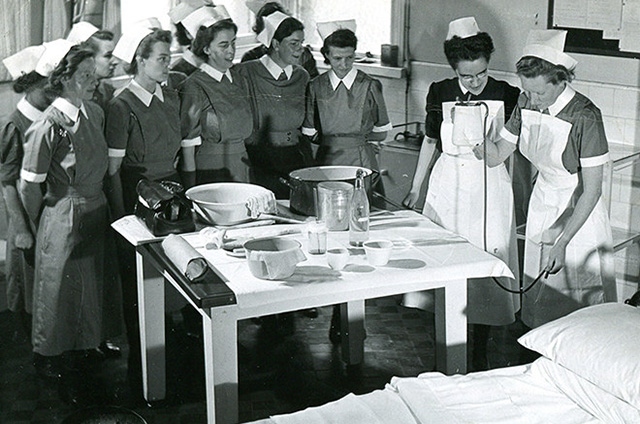 HAPPY DAYS: An early NHS image
The NHS turns 70 on Thursday, July 5, and members, the public and staff are all invited to help celebrate hitting this major milestone by sharing their memories, stories and views of the NHS, and attending a free birthday event in Oldham.
The Northern Care Alliance, the biggest NHS organisation in the North of England, is holding two special 'Medicine for Members' events that day (the other in Salford), which will take people on a journey through the past, present and future of their local NHS.
There will also be the opportunity to meet some of the 17,000 staff at the event, including wonderful doctors and nurses, ask them how things have changed over the years and what the future holds.
People can also share their own photos and stories and they will showcase them at local hospitals.
Organisers are appealing for stories, photos and memories of healthcare in Oldham, Salford, Bury, Rochdale borough and North Manchester.
The Alliance would love to hear people's stories so that they can celebrate these within the organisation or perhaps even on websites and social media platforms.
The Northern Care Alliance NHS Group is made up of Salford Royal NHS Foundation Trust and The Pennine Acute Hospitals NHS Trust.
The Alliance runs five hospitals and community services including Salford Royal, the Royal Oldham, Fairfield General in Bury, Rochdale Infirmary and North Manchester General.
Angela Greenwood, Membership and Public Engagement Manager at The Northern Care Alliance, said: "These events will be a wonderful opportunity for staff, the public and our members to help us celebrate 70 years in the NHS.
"We will be showcasing some amazing historical photos and equipment side by side with state of the art modern medical devices.
"I think anyone who attends will be wowed by what we do and how we have changed over the years, so don't miss out, book your free place now and come along and celebrate with us!
"If you have any old photos of your own or if you want to share a funny or memorable anecdote with us then we would love to receive them.
"You can post them to us and we will share them with our staff and at our hospitals and special events."
Launched on July 5, 1948, the NHS was an ambitious plan to bring good healthcare to all.
It was the first time all hospitals, doctors, nurses, pharmacists, opticians and dentists were brought together to deliver services that were free at point of delivery.
The Oldham free NHS birthday 'Medicine for Members' event takes place on July 5, between 3pm - 4pm, Room F17, Education Centre, the Royal Oldham Hospital, Rochdale Road in Oldham.
Light refreshments will be available.
Please confirm your attendance by contacting the Membership Office on: Foundation@srft.nhs.uk or calling 0161 206 3133.
To share your NHS stories and photos, please send them to Freepost RRJS – LATX – XHZG Membership Office, Trust Executive, 3rd Floor, Mayo Building, Salford Royal, Stott Lane Salford, M6 8HD.
Alternatively, email: Foundation@srft.nhs.uk