Reward offered by father of 'life-changing' attack victim
Reporter: Simon Smedley
Date published: 19 June 2018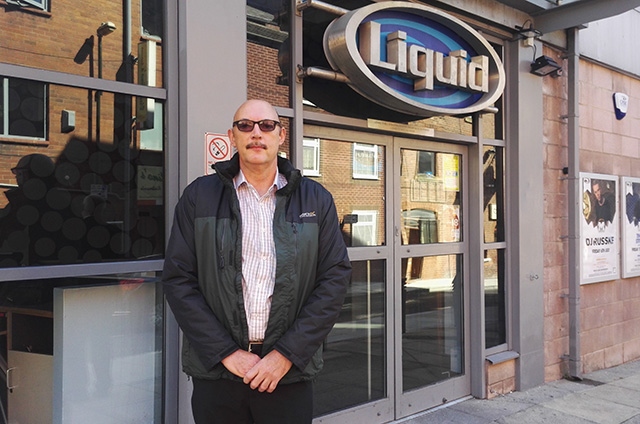 Martin Hickey - father of attack victim Thomas Hickey - pictured outside the Liquid Envy nightclub today
Scroll down for Video
The father of a man attacked and stabbed outside an Oldham nightclub in March has offered a personal £5,000 reward to anyone who can provide information which leads to a conviction.
Twenty-one-year-old painter and decorator Thomas Hickey, from Limeside, was attacked following an earlier minor altercation in Liquid Envy on Waterloo Street.
A keen Oldham Sunday League footballer who lived life to the full, Thomas suffered 'horrendous, life-changing' injuries and has since undergone major surgery.
Thomas suffered two stab wounds to his head, a puncture wound to his shoulder, a broken knee-cap in three places and severe bruising to his back.
Two men were arrested shortly after the incident, but have since been released under investigation.
Thomas's father Martin now hopes the reward on offer might help jog someone's memory, or simply encourage someone who knows something about the dreadful attack to come forward, three months on.
Martin told the Chronicle: "Thomas still suffers from trauma and he's mentally scarred by it all.
"This was an unprovoked attack and basically, he didn't deserve it.
"He's not a bad lad, he's not a fighter, he's just happy-go-lucky.
"He's just like any 21-year-old who likes going out with his mates, enjoying himself. Liquid is a good club and he enjoys it there.
"He's now withdrawn, he's staying in more, he's just not too good at all.
"Somebody out there must know something, and I'm sure the police will catch these wicked people in the end.
"Hopefully the reward will help jog somebody's mind, maybe even give them an incentive."
Detective Inspector Ian Harratt (pictured above today) needs more key bits of information from the Oldham public, and clubgoers on the night in question.
The ongoing investigation is 'far from complete'.
"We need the community at large in Oldham to help with this investigation," said Mr Harratt.
"I'm a parent and I grew up in Oldham myself.
"I've been on many a night out in Oldham town centre, and it is a safe place.
"It's just every now and again we have these isolated mindless acts of violence that come completely out of the blue.
"We really do need the public of Oldham to stand up and be counted with this now.
"We need someone to come forward and help us, and not to allow these hooligans to hide in their midst.
"People know who they are, and I wouldn't be surprised if they've been bragging about it.
"It's those people who may know something that we need to reach out to.
"We need to get justice for Thomas and his family."
At around 2.30am on Saturday, March 24, Thomas was outside Liquid Envy on Waterloo Street when he was attacked by a group of people.
He tried to get away from the group but was chased behind the rear of the club, then fell over before being brutally attacked.
CCTV showing four people police want to speak to has been released (below) and anyone with information is encouraged to come forward.
At the time, Detective Constable Colette Wilkinson, of GMP's Oldham Borough, said: "This is an extremely nasty attack, which has left Thomas with injuries he may never fully recover from.
"The person - or people - who inflicted these wounds clearly intended to cause some harm and we need to make sure they answer for their cruel actions."
Anyone with information should contact police on 0161 856 1382 quoting reference number 280 of 24/03/18 or the independent charity Crimestoppers, anonymously, on 0800 555 111.
CCTV showing four people police want to speak to has been released, and anyone with information is encouraged to come forward. Footage courtesy of Greater Manchester Police