Saddleworth Show promises something for everyone!
Date published: 25 June 2018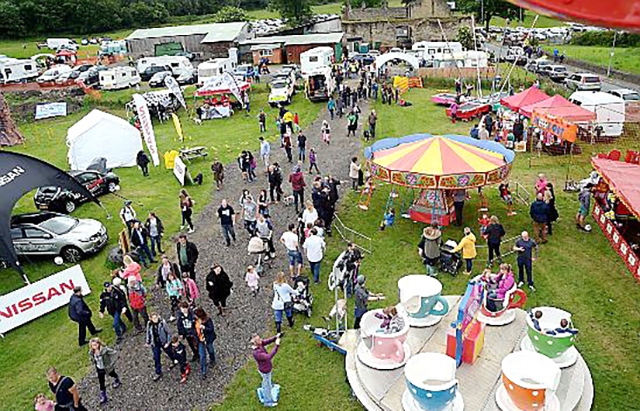 A scene from last year's Saddleworth Show
Well-i-hole Farm in Greenfield will be the place to be this weekend as the Saddleworth Summer Show returns with a double bang.
The Show, organised by the Rotary Clubs of Oldham Metro and Saddleworth, promises fun for all age groups once again, with lots of fun events and activities to enjoy.
The Saddleworth Show is one of the largest community events in the district, with all the profits going to local and rotary good causes.
This year, a new music festival simply adds to the overall draw of the Show.
The inaugural 'Wellifest' event takes place on Saturday, June 30, with six hours of entertainment featuring an eclectic mix of musical genres from tributes to Britney Spears, Lionel Richie and Boy George to headliners, Blackballed.
Mossley-based Phil Grainger, host of Open Mic nights at the Royal George Hotel, is compere for Wellifest, which has been created to precede the main Saddleworth Show, whicjk takes place on Sunday
Phil is the drummer in the band, The Overture, who will open Wellifest at 4pm.
"Plenty of multi-tasking beckons," laughs musical all-rounder Phil, who has previously played with Mike Sweeney and another of the Wellifest acts - AbandcalledJack - one-time support act for Paolo Nutini and Big Country.
Top of the bill Blackballed (pictured above) feature Tom Wibberley and the Gill brothers, Leon and Marshall - the latter lead guitarist with New Model Army.
Blackballed describe themselves as "a full tilt powerhouse with a ton of passion and style.
"Fusing all the best ingredients from rock, blues and psychedelic soulfulness, they conjure up an energy that once discovered won't be forgotten."
For Phil, his role is another step on a musical journey that started nine years ago.
"I was sat at home watching a DVD of David Gilmour thinking I would love to be able to play guitar well enough to play a couple of favourite songs," he said.
"For Father's Day that year, my son got me a guitar and I taught myself how to play as I can't read music.
"A few friends took me to some open mic nights and I remember 10 seconds in to singing Sweet Home Alabama thinking 'I am hooked'."
The Wellifest line-up is completed by OK Broken (above), One Day, Lauren McGlashen and Bryn Chapman.
Tickets cost £15 and are available by visiting www.wellifest.com or from The Royal George, Greenfield.
Gates open at 3pm, and there is free parking at the site.
The fun and games at this year's main Saddleworth Show on the Sunday will see the return of Circus Sensible's Big Top and workshops.
There will also be all the traditional attractions including bouncy castles, fairground rides, pony rides, craft and charity stalls.
Entertainment will be provided by Brazilian drummers and Rock choirs to youth showcases.
Last year saw the introduction of the Fun Dog Show, and this will be repeated this year.
Whether your dog is a scruffy mongrel or a top pedigree, all dogs are welcome to enter the categories and have an equal chance of winning.
The Saddleworth Summer Show gates open at 10am and close at 6pm.
Again, there is free car parking at the site.
Entry is payable on the gate at £6/adult; £3/12-16yrs and free for all under 12s.
Visit the website for more details: www.saddleworthshow.com