MP aims to reassure residents in the wake of 'devastating' Saddleworth fires
Date published: 27 June 2018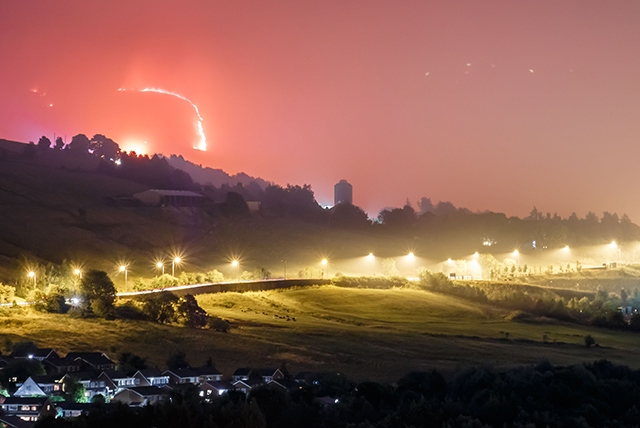 The Saddleworth Moor fires have wreaked havoc. Pictures courtesy of PropertyPhotographs.co.uk
Oldham East and Saddleworth MP Debbie Abrahams has saluted the fire service, police and other partner agencies as frantic work continues to quell the 'devastating' Saddleworth Moor fires.
Mrs Abrahams has expressed her concern regarding a number of issues for local residents, and offered advice for those affected.
She said: "The news of the Saddleworth Moor fire and impact on local communities is devastating.
"I am in touch with both the police and fire service and I will continue to monitor the situation.
"I have just spoken with Assistant Chief Fire Officer, Tony Hunter regarding the Saddleworth Moor Fire.
"Over seven square miles have been affected with an arc extending round Dovestones and Carrbrook with smoke drifting into East Manchester.
"Over 20 fire engines, 100 firefighters and support vehicles are at 6 locations. Firefighters have also been recalled for duty.
"I am so grateful for all the work of our brave firefighters, police and partner agencies who have been working throughout the night to keep the fire contained and support residents.
"We are indebted to them for all their hard work during this very difficult time.
"Crews are working hard to contain the fire and this involves beating and damping down the fire.
"The Fire Service are also using helicopters but the land is so dry the water being dropped is just being absorbed.
"Asst Chief Fire Officer, Tony Hunter, told me that the fire is currently under control but with heat expected during daylight, it can easily flare up.
"Military vehicles and partners are also on alert.
"Fifty homes have been evacuated for safety in a number of locations.
"The air quality is currently in the range of Bonfire Night but with high pollen and hot weather there are Public Health concerns for people with respiratory conditions.
"The advice for those affected is to stay home and to keep doors and windows closed.
"I ask residents to please take care of yourselves and each other.
"Look out for vulnerable neighbours but please do not visit the area unless you really have to.
"I want to provide my thanks from the Greater Manchester Fire Service to volunteers and for all your offers of help and refreshments. They are now very well catered for."
For latest updates, check: https://manchesterfire.gov.uk/news/incidents/moorland-fire-in-tameside/