Gearing up for this year's Classic Car show
Date published: 28 June 2018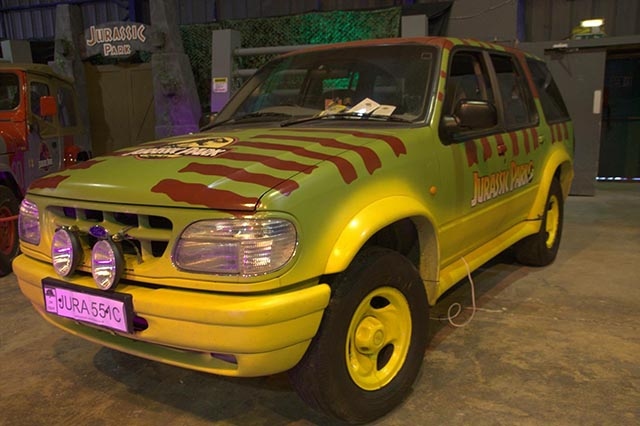 The Jurassic Park Jeep
Get ready to gear up for a day of 'roarsome' automotive-themed entertainment as Oldham welcomes the return of its annual Classic Car Show.
The free rally event, organised by the Tame Valley Vintage and Classic Car Club with the support of Oldham Council and the Town Centre Business Partnership, will be held in Parliament Square on Sunday, July 8 (10.30am–3.30pm).
Around 50 cars, motorcycles and light commercial vehicles will be on display throughout the day for visitors to look at including pre-war tourers, 1960s sports models and American classics.
The one to watch out for will be the famous Jurassic Park Jeep which has seen off the likes of the Tyrannosaurus Rex and the 'Car-notaurus' to be at the event but dinosaurs will still be roaming around on the loose, so beware.
Don't forget to catch the Comedy Gangsters in their vintage miniature car as they tap dance, balance and juggle around the town's public space and why not try your hand as a racing driver in our F1 Simulator?
Look out for some unusual moving traffic cones too in a new piece of street theatre from Oldham Theatre Workshop.
Councillor Sean Fielding, Oldham Council Leader, said: "This event is a great chance for families to visit Oldham and explore all the shops and attractions on offer.
"Last year's event was hugely popular and we hope to see lots more families and motor enthusiasts enjoying all the great free entertainment on show.
"With the Jurassic Park Jeep on show too, why not then later catch 'Jurassic Park: Fallen Kingdom' at the Old Town Hall's ODEON cinema?"
Vehicles will be judged during the show under 10 different categories – with one owner being presented with the coveted 'Car of the Show' trophy. Owners will also be on hand to chat about their vehicles and answer any motoring queries you may have.
Entries to the show cost £3 per vehicle and anyone wishing to take part should contact the Town Centre Team before the event by phoning 0161 770 4516 or emailing: towncentre@oldham.gov.uk
Free parking is available for up to three hours in all council owned town centre car parks.
To qualify for this offer you must take a ticket from the pay and display machine and place it on view in your vehicle.