Firefighters continue to battle Saddleworth Moor fires
Date published: 03 July 2018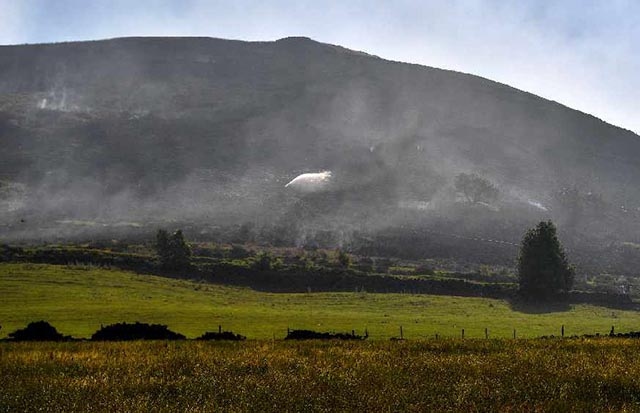 Saddleworth Moor smoke from fires is still clearly visible
Greater Manchester Fire and Rescue Service have given an update on the situation on Saddleworth Moor as fire crews continue to battle the blaze, well over a week after it first started.
Currently around 45 firefighters remain at the scene on the moor battling pockets of flames over a seven-square mile site.
However, bosses say they expect that number to increase as crews from West Midlands, South Yorkshire, Gloucestershire and West Yorkshire arrive at the scene.
In addition to firefighters, troops from the Royal Regiment of Scotland (4 Scots) are, again, joining crews in Tameside as they continue to work across five sectors of the Moorland fire.
"This provision will allow other GMFRS resources to be freed up to deal with other emergency calls," said the fire service in an updated statement.
It was last Sunday night (June 24) when crews were first called to an area of grassland between Dovestone Reservoir and Duckton Vale to tackle a fire.
They quickly extinguished it, however, during the early hours of Monday morning (June 25) another fire started on the moors, which has continued to burn into this week.
At one stage residents on Calico Crescent in Carrbrook were evacuated from their homes, but they have since been allowed to return.
The blaze was declared a major incident with the army being drafted in a few days after it started in an attempt to give firefighters the upper hand in tackling the fire.
A Chinook helicopter was also placed on standby should equipment been needed to be moved to higher ground.
At its height more than 160 members of the fire service were battling the fire, which sent out massive plumes of smoke across most of Tameside and well into Oldham.
Residents were told to close their doors and windows due to the smoke and the smell of fire with plumes being spotted on the International Space Station which was confirmed in an image sent to the Chronicle by the University of Dundee.
The statement from GMFRS continued: "Firefighters are continuing to work in challenging conditions and intense heat using beaters and specialist wildfire equipment to tackle the flames."