Oldham MP shows racism the red card
Date published: 04 July 2018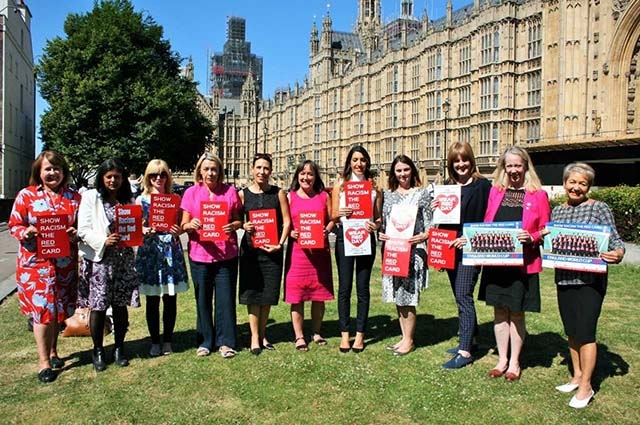 The MPs joining Debbie Abrahams in supporting Show Racism the Red Card are, left to right: Thelma Walker, Rupa Huq, Rosie Duffield, Barbara Keeley, Debbie Abrahams, Rosena Allin-Khan, Melanie Onn, Sarah Jones, Liz McInnes, Rosie Winterton.
Oldham East and Saddleworth MP Debbie Abrahams is backing the anti-racism and educational charity, Show Racism the Red Card, as they kick off the promotion of their Wear Red Day 2018 event, which will take place on October 19 across England and Wales.
Mrs Abrahams, who has organised her own local sport-for-all project which aims to bring young people together from different backgrounds, said: "We're in the middle of a glorious summer of sporting events so it's important to keep reminding ourselves that sport is for everyone and has the power to bring us all closer together.
"We have far more in common with each other than things that divide us, as my friend Jo Cox famously said, and making sport accessible to everyone is a great way of strengthening community ties."
Ged Grebby, SRtRC Chief Executive, said: "This October will mark the fourth year of Wear Red Day, which is growing in schools, organisations and individuals participating year on year.
"People wear red for the day to show solidarity with our campaign against racism and make a donation towards SRtRC's education work.
"A big thank you to Debbie, and all the MPs, who took time out to show their support for Wear Red Day."
Find out how to take part in Wear Red Day 2018 and help the charity at: www.theredcard.org/wear-red-day