Oldham veteran Terry calls for justice - 60 years after devastating 'hell' island nuclear tests
Reporter: Martha Southall
Date published: 15 August 2018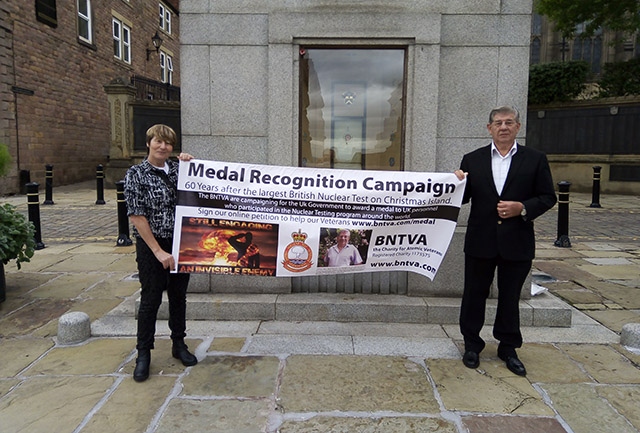 Veteran Terry Quinlan pictured at the Oldham war memorial with his daughter Ann
"We were the guinea pigs," insists the Oldham veteran still demanding justice for those forced to face the most devastating weapon Britain has ever produced.
It is now 60 years since Terry Quinlan stepped foot on Christmas Island.
In the clutches of the Cold War, Britain was desperate to keep up with its US allies.
Beginning in 1957, Operation Grapple would test early atomic and hydrogen bombs off the coast of the Pacific island now named Kiribati.
It would form part of the 315 tests carried out by the US, France, and Britain in the 50 years following 1946.
Terry, a 79-year-old veteran from Royton, recalls his time on the small island.
"It was hell," he told the Chronicle.
"Apart from the heat, the sun, the work, the bomb tests were just terrifying."
Nowadays, those exposed to nuclear radiation are expected to be covered in protective gear and avoid any sustained contact.
Most of us are aware of the devastating effects of ionising radiation but, caught in the grips of a world just discovering nuclear terror, Terry and his fellow soldiers were far from prepared.
"We had no protection whatsoever," Terry added.
"We didn't take any equipment out there - we weren't issued with any. We had a very light tropical shirt and shorts, socks, boots, puttees and a jungle hat - that was our uniform.
"We were virtually in the shorts every day of the week, including all the time the tests went on."
Their only protection from the blasts was simply turning away.
Terry recalled: "We sat in the sand because standing in the blast could knock you about.
"We sat with our backs to it obviously, but with the tremendous flash of an A-bomb or an H-bomb ... we had fists in our eyes and you could see through your hands all the bones like an X-ray.
"It singed the hairs on the back of your neck.
"And of course the noise - the noise from a hydrogen bomb is unbelievable."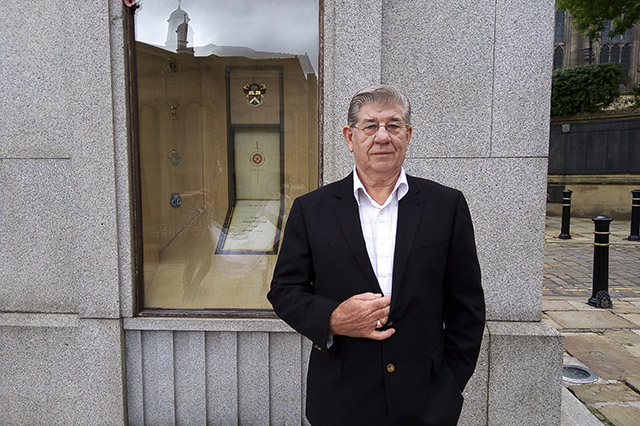 At one point, Terry was hit in the throat with something he assumed it to be a shell.
In 2004, a triple bypass would reveal a piece of steel lodged millimetres from his heart in one of the blasts.
This would not be the only type of medical complication faced by those present.
"I was a very fit man," Terry said.
"We used to do things like a 110 mile march with a bergen on, carrying 45 pounds on your back at least."
Despite this, two years after leaving Christmas Island, Terry discovered a rapidly growing tumour in his side which had to be removed at Oldham Royal Infirmary.
Only 3,000 of the 22,000 exposed remain, many having died prematurely of cancer and other illnesses.
These effects are known to pass through generations, with many of the soldier's children having been born with deformities and unidentified illnesses.
Still, the UK remains the only nuclear power to refuse compensation or recognition to its bomb test veterans.
In fact, the Ministry of Defence has spent £4million on blocking legal claims, citing insufficient evidence.
France, the US, and Australia have all given compensation.
For Terry, Britain needs to do more.
He said: "It's dreadful really; the fact we never got any recognition whasoever, not even a thank you. We were just swept aside."
His petition asks for acknowledgment through a medal for nuclear veterans and can be found here.
Until then, the UK's first Centre for Health Effects of Radiological and Chemical Agents has begun a genetic study into the health of bomb test veterans, which will hopefully bring yet more evidence of the plight of those on Christmas island to the fore.
---
Do you have a story for us? Want to tell us about something going on in and around Oldham? Let us know by emailing news@oldham-chronicle.co.uk , calling our Oldham-based newsroom on 0161 633 2121 , tweeting us @oldhamchronicle or messaging us through our Facebook page. All contact will be treated in confidence.