Daniel offers blind James the gift of sight again
Reporter: Martha Southall
Date published: 03 October 2018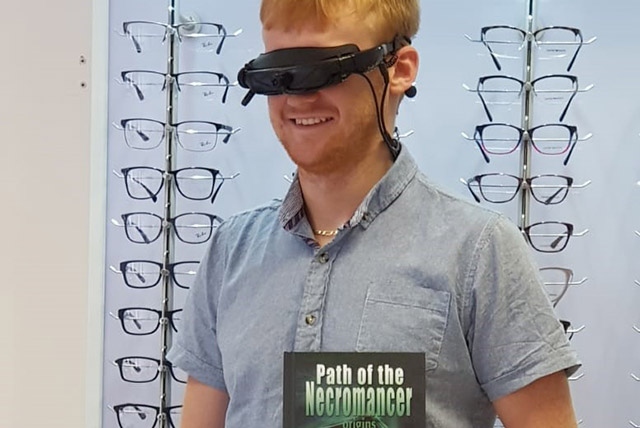 Blind author James Laird tries the exciting new eyewear
Blind author James Laird always dreamed of travelling the world, but only Hathershaw's Daniel Crown could help him see it.
When he was young, James learned of his diminishing eyesight.
The news threatened his travelling ambitions, but the author was determined that he would go on.
James, author of Path of the Necromancer, said: "I'd never let it stop me.
"My dream was always to travel. The world is a gigantic place with billions of experiences to discover.
"I'd started out with family and friends, then started branching out independently but I'll admit, it was difficult at times."
By the time he was at university, James could only had around 5-10 degrees of vision.
"It is like looking through a keyhole," local optician Daniel explained.
"James had lost the peripheral aspect of his vision. Imagine being sat in a room with ten people in it - James would only see one."
Daniel's specialism is low vision, a condition caused by eye disease which cannot be corrected with regular glasses.
He himself only regained his sight towards the end of 2008 and subsequently began to develop technology that would help in case the recurring condition affected him again.
By 2009, he had made his first prototype AR glasses.
AR, or Augmented Reality, allows objects that the user perceives in the real world to be augmented by computer-generated sensory information.
It has applications from archeology to video games and now, thanks to Daniel, to the lives of those struggling with low vision.
His glasses feature two microdisplays that are projected into the wearer's eyes and can be manipulated through optical lenses.
Daniel first heard about James through some colleagues.
"We arranged to meet and I brought my bag of tricks," Daniel told the Chronicle.
"I asked him to try the glasses and I could tell they worked instantly.
"He was just looking around the room and smiling."
From that moment, James's vision was opened up to span 130 degrees.
Still in university at the time, young James was determined to get the most out of this life-changing invention.
He said: "I've used my set of specially adapted AR Glasses to the limits of their lives. I don't say that lightly.
"Since having them I've been able to live in France, China and The Philippines and have given me the confidence to plan my next trip to Columbia.
"If it weren't for these glasses I wouldn't be able to do that."
Special features such as low light ability opened even more doors for James.
He added: "When the sun went down, I went indoors.
"With my special glasses I went to clubs, parties and concerts.
"Meanwhile, the vision expansion gave me the opportunities to see some of the worlds greatest natural beauties."
For Daniel, from Hathershaw Opticians, it is exciting to see this technology pushed to its limits.
He added: "With the young generation it's easier; they know how to get the most of the product. James tried everything and anything."
Despite the huge potential of his invention, Daniel's motivation was not financial.
He said: "I have no commercial interests - I just wanted to help people. With me, a problem needed resolving and I just resolved it."
"I would see tears of joy and laughter from my patients, so I knew straight away I had done something right.
"When patients could see more with the glasses it literally changed their lives.
"It gave them some independence back.
"It was amazing to see the difference I could make."
Currently, James is one of only around eight to have had their lives changed by the technology.
He said: "From collecting an IMBA, falling into writing after jobs fell through, and surviving living on the streets in Shanghai, my glasses have seen it all, and because of them, so have I."
---
Do you have a story for us? Want to tell us about something going on in and around Oldham? Let us know by emailing news@oldham-chronicle.co.uk , calling our Oldham-based newsroom on 0161 633 2121 , tweeting us @oldhamchronicle or messaging us through our Facebook page. All contact will be treated in confidence.