Tributes paid to PCs Nicola Hughes and Fiona Bone six years after their murders
Date published: 18 September 2018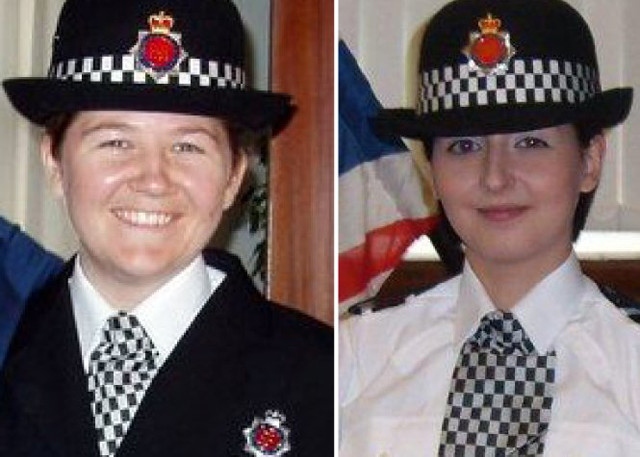 PCs Nicola Hughes and Fiona Bone
Greater Manchester Police have led the tributes to Diggle officer Nicola Hughes and her colleague Fiona Bone, who were killed while on duty six years ago.
It was on 18 September 2012 when the two Police Constables were sent to a report of criminal damage at a property in Hattersley in Tameside.
That emergency call was a hoax made by Dale Cregan, who shot the two officers, killing both.
32-year old Fiona died at the scene and 23-year old Nicola passed away later in hospital.
Cregan was jailed for life for their murders and is currently serving a whole life tariff in prison.
To mark the sixth anniversary of the attack, Greater Manchester Police's Chief Constable, Ian Hopkins led the tributes, taking to social media to say: "It's hard to believe that it is 6 years today since the awful murders of @gmpolice Pc's Fiona Bone and Nicola Hughes.
"I am fortunate to regularly meet both of their incredible families; my thoughts are with them on this most difficult day."
Floral tributes have also been left at the memorial to the two officers in Hyde.
In the aftermath of the attack in 2012, thousands of people paid their respects to the two police officers, laying row upon row of flowers close to the scene of the incident.
More were placed at police stations right across Greater Manchester.
Weeks later at their funeral, which was held at Manchester Cathedral, thousands of mourners paid their respects with Greater Manchester Police officers lining the street surrounding the church, many clearly still emotional, as their coffins were carried inside.
A candle lit vigil was also held close to the scene, one week after the incident.
At his trial, Cregan was charged with four murders, including the two police officers, and three attempted murders.
He was found guilty on all seven charges and sentenced on 13 June 2013, to life imprisonment with a whole life order.