Oldham Peace Week event hailed a success
Date published: 19 September 2018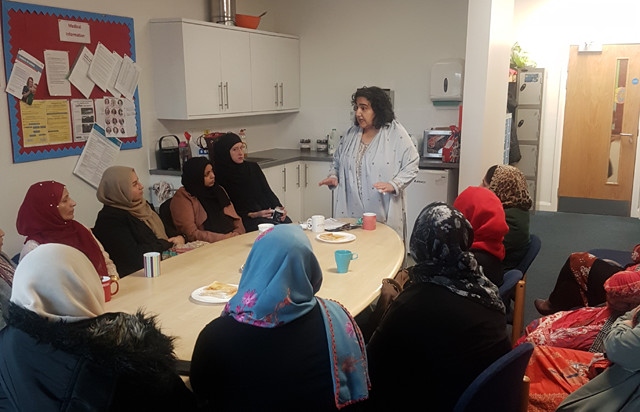 Marzia Babakarkhail speaking at the event
An event for Peace Week by a support group for women in Oldham has been hailed a success.
The Women's Chai Project – which aims to care, help and inspire those it works with – saw a guest speech from Marzia Babakarkhail, who shared her journey as an Afghan refugee in the borough.
The project was founded in 2011 by Najma Khalid and currently runs three groups at Greenhill Academy, Horton Mill Primary School and Roundthorn Academy.
Their main focus is raising awareness around wellbeing and the empowerment of women.
To mark Peace Week, the Roundthorn Chai Group organized an event on Monday, where Marzia spoke about peace, unity, struggle, challenges, strength, and hope.
She talked about the importance of education for women and girls all over the world.
Founder Najma Khalid said: "Roundthorn CHAI project is a huge success, and has empowered and developed many women.
"We were very honoured to have Marzia speak at our event, Marzia's speech was very powerful and inspiring for all that attended."
Marzia is an Afghan refugee living in Oldham, having been force to flee her homeland by the Taliban in 2008.
She was targeted by the Taliban for setting up a foundation for educating girls.
They tried to kill her in a high speed hit-and-run as she visited her sick mother in hospital.
The attempt on her life was unsuccessful, but she spent six months in recovery.
Marzia was a high court judge and activist in Afghanistan – and is currently studying, while continuing to be actively involved in campaigning, lobbying, mentoring, and raising awareness to promote rights and freedoms for gender equality.
She is pushing for greater women and youth participation in political and social affairs and local and community level.
Marzia is involved at grassroots level with organisations concerned with housing issues, social cohesion, and refugees.