Oldham MP speaks up for local victims of crime in emotional Commons debate
Date published: 12 October 2018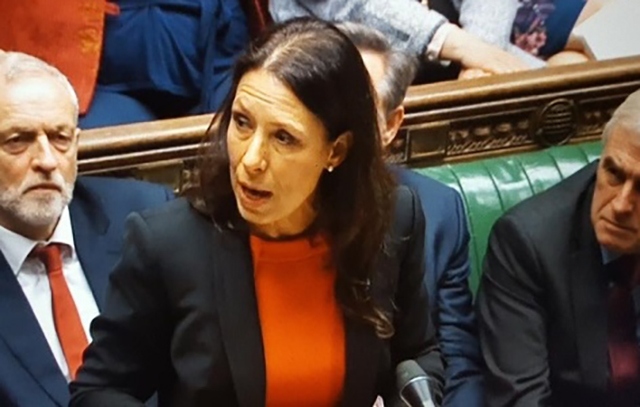 Oldham East and Saddleworth MP Debbie Abrahams
Scroll down for Video
In a debate in the House of Commons on the Government's victim strategy, a clearly emotional Oldham East and Saddleworth MP Debbie Abrahams raised the cases of local murder victims Liane Singleton and PC Nicola Hughes.
Liane was murdered in 1998 by Paul Stowers - who is due to be released on licence in November - and Nicola was murdered in 2012, along with her colleague PC Fiona Bone, by Dale Cregan.
Mrs Abrahams said: "Victims should be at the heart of our criminal justice system.
"For too long, victims have felt like an afterthought in the criminal justice process.
"In my speech I told the minister about the distressing case of Liane Singleton's brutal murder and how her parents, my constituents Jacky and Gordon Singleton, have been trying to prevent the release of the killer, including by petitioning Parliament back in July.
"Just last month they found out that they have failed and Liane's killer is due to be released in November.
"They feel dreadfully let down by the criminal justice system, and totally powerless to influence the Parole Board.
"Although the victims' strategy is a start, the Government need to uphold their commitment at the 2015 general election for a victims' law.
"As it stands the strategy has no teeth and with the draconian cuts to the police, other parts of the justice system and wider public services, the prospect of victims being a priority seems far-fetched.
"As part of a new Victims' Law, there should be a mechanism for the reconsideration of parole decisions with victims having a right to be heard in a judge-led process.
"Furthermore victims of the crime should not be forced to crowdfund to pay for legal representation.
"I will be keeping up pressure on the Government to deliver their promise.
"I also raised the case of my constituent PC Nicola Hughes who was murdered in the line of duty.
"Her father, Bryn, has suggested that more needs to be done to provide immediate financial help, for example, with funeral costs.
"As a divorced parent, he has also said more needs to be done to ensure that both parents are supported and kept informed during and after the investigation and trial."
Mrs Abrahams also congratulated local campaigner Ann Roberts from Justice After Acquittal, adding: "Ann, and her colleague Carole Longe, have campaigned on behalf of murder victims' families where no one has been brought to justice or there has been an acquittal.
"Prior to their work there had been no framework governing whether and when these murder cases would be reviewed by police and prosecutors.
"There was also very patchy support for these families. The launch last year of the National Standards of Support by the CPS and Metropolitan Police, was down to Ann and Carole's tenacity and is most welcome."
Liane's father, Gordon Singleton, said: "We're grateful once again to Debbie for her help with bringing this issue to the attention of the Government.
"As a family we've were devastated by the judge's decision to only give Stowers 15 years.
"His crime was so brutal we firmly believe that, in his case, life really should mean life.
"As we stated in our petition we strongly believe Stowers should remain behind bars for the good of society and to protect other parents and families from having to go through the torture and heartbreak that we've had to endure for the last 20 years.
"We feel badly let down by the judicial system and really hope that the Government will take swift action to make sure that victim's of crime, and their families, are properly looked after and treated with dignity and respect."
Bryn Hughes also commented on Mrs Abrahams' heartfelt speech, saying: "I've looked over the proposed strategy and, if everything in the strategy is implemented, I personally think it will go a long way to making the whole horrendous experience of being a victim of crime more bearable and easier to cope with, if there is such a thing.
"I'm glad Debbie has been able to raise my suggestion to provide financial assistance to bereaved families, for example with the initial costs and expenses regarding funerals of loved ones.
"In my campaigning work I often hear about families being unable to afford the most basic of funerals and need to rely on crowd funding, or the generosity of undertakers, waiting until such time they receive any compensation from the Criminal Injuries Compensation Authority (CICA).
"Yes, it could be argued that families should have life insurance etc but nobody plans to be murdered.
"This is something I intend to explore and bring to the Victims Panel where there is the possibility of the CICA paying for costs prior to the compensation being paid which would relieve some of the stress and pain in the early days when families are trying to cope.
"Unless someone has been in these circumstances themselves it will be difficult for them to grasp the enormity of how damaging it can be, not only in the immediate aftermath but also in the years to come, as in my circumstances where the ongoing grief can affect you in ways you can't imagine on a daily, weekly and yearly basis."
MP Debbie Abrahams makes an emotional speech in the House of Commons on the Government's victim strategy