Oldham Council set to become living wage employer
Date published: 08 November 2018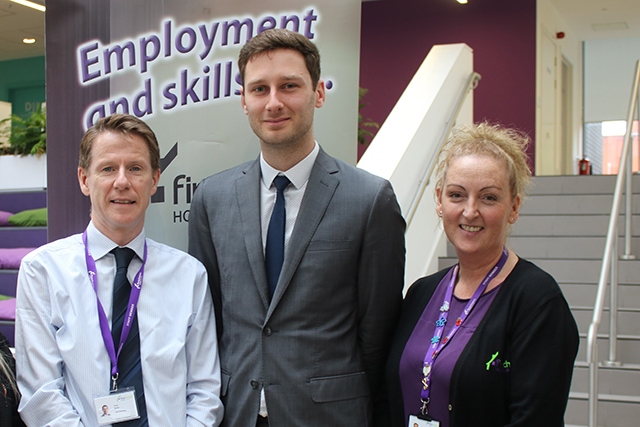 Pictured from left to right: Vinny Roche, Chief Executive of First Choice Homes Oldham, Cllr Sean Fielding, Leader of Oldham Council and Mary Brooks, receptionist at First Choice Homes Oldham
Employees at Oldham Council could be in line for a pay rise with the news that the local authority is to become a Living Wage employer.
Council Leader Sean Fielding has announced his commitment to making the local authority a Living Wage employer.
Councillor Fielding made the pledge during his first-ever Annual Statement at a meeting of Full Council last night (Wednesday).
He confirmed that Oldham Council is working to secure Living Wage accreditation from the Living Wage Foundation.
This means that all directly employed Oldham Council staff will be paid the foundation's living wage (£9 per hour), subject to agreement by Cabinet in December.
Achieving this accreditation would all also see all of Oldham Council's suppliers paying the Living Wage to staff working on contracts for the local authority.
Councillor Fielding and Dr Carolyn Wilkins OBE, Chief Executive of Oldham Council and Accountable Officer at NHS Oldham Clinical Commissioning Group, will write to suppliers to outline these ambitions for the borough.
Ahead of this announcement Councillor Fielding visited First Choice Homes Oldham (FCHO), one of the first employers in the borough to secure Living Wage accreditation, to see the impact it has had.
He spoke to a range of local people who have been helped by FCHO to secure well-paid employment.
Cllr Fielding said: "I made it clear when I took office that I want to see Oldham become the great place we all know it can be.
"This means somewhere with a bustling town centre, thriving businesses, cleaner streets, better roads, great education and more jobs.
"If this is the Oldham we want, we also have to make sure that people are paid fairly and that we as employers are meeting the true costs of living. It's the right thing to do.
"Most of our staff are local residents and this investment will help us retain good staff who live locally.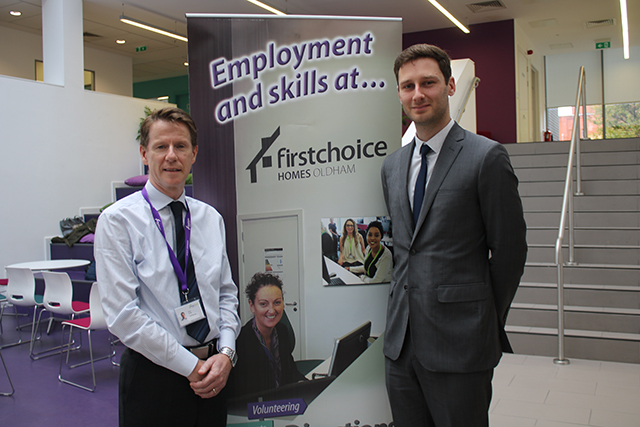 "Other businesses that have implemented this have seen improvements in staff motivation and productivity, quality of work and reductions in absences and turnover.
"I will also use this commitment as a platform to have discussions with other local firms, suppliers and partners, to raise the bar in our borough and aspire to our Fair Employment values.
"Paying the Living Wage is voluntary but it says everything about what kind of an organisation we want to be, and the kind of place we want Oldham to be."
Forty-eight-year old Mary Brooks has been benefitting from the Living Wage working as a receptionist at FCHO.
She said: "I was a tenant of First Choice Homes and held three low-paid and very demanding cleaning jobs just to try and make ends meet.
"Prior to cleaning I had been working in administration so I was keen to try and get a more suitable role that fitted my skills and my family circumstances.
"However, despite applying for lots of roles, I wasn't being offered any interviews as employers couldn't see past the fact that I hadn't held an admin role recently.
"I was starting to get very low about my situation but I spoke to the Directions service at First Choice Homes and they really helped me to improve my confidence and position myself better for jobs I was more interested in.
"Thanks to them I found a job as a receptionist at a doctor's surgery. However, First Choice Homes kept in regular contact to see how I was getting on.
"I'd made some really good friends there so as soon as the receptionist role came up just over two years ago, I jumped at the chance to apply.
"I'm thrilled to be working here now. With them being a Living Wage employer it's made a huge difference to my finances. I'm now looking at becoming a homeowner, which I would never have been able to think about before, and I don't have to worry as much when it comes to Christmas, birthdays and holidays.
"What's more, the Directions team has helped both my partner and my daughter, boosting their confidence and their job prospects."
---
Do you have a story for us? Want to tell us about something going on in and around Oldham? Let us know by emailing news@oldham-chronicle.co.uk , calling our Oldham-based newsroom on 0161 633 2121 , tweeting us @oldhamchronicle or messaging us through our Facebook page. All contact will be treated in confidence.