New plans to cut tooth decay in Oldham's under 5s
Date published: 16 January 2019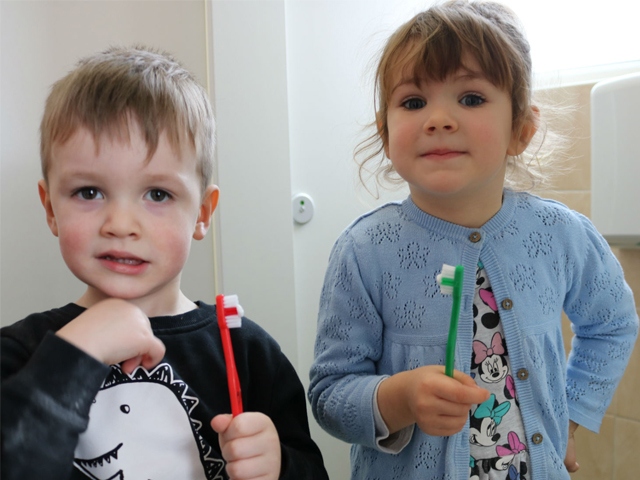 Plans to cut tooth decay in youngsters in Oldham
Children in Oldham are among those who most need to improve their oral hygiene, according to the NHS and Public Health England.
Plans could see supervised toothbrushing introduced in schools and nurseries.
Kids in our region are being targeted by a new programme, which is aimed at transforming the dental health of under 5s.
Oldham is one of four regions most in need in Greater Manchester, along with Salford, Rochdale and Bolton.
£1.5m is to be invested into the scheme for the whole of the county, but the Greater Manchester Health and Social Care Partnership – which oversees the devolution of health and care services.
It's suggested that dental care is brought into health visitor checks in area where there are a large number of children suffering from tooth decay.
Half of five year olds in Oldham start school with tooth decay, which is well about the national average for England.
The scheme comes as Public Health England campaigns to get families to cut back on sugar by urging parents to swap when they shop – by making healthier choices at the checkouts.
Some of the plans for youngsters include:
daily supervised toothbrushing for kids aged two to five
training new 'dental champions' to improve oral hygiene in early years
giving kids toothbrushes and toothpaste at visitor health checks
encouraging families to take kids to the dentist in their first year
improving access to dentist services for those aged below five
Claire Stevens, paediatric dentistry consultant and children's oral health lead with the Partnership said: "This new initiative is aiming to tackle the very real problems we face in Greater Manchester with large numbers of young children experiencing significant tooth decay often before they even reach school age.
"Such problems can cause pain, sleepless nights and missed days of school for many children.
"Across Greater Manchester, this is adding to the daily challenges faced by many of our least well-off families and putting additional pressures on the NHS.
"Our new £1.5m oral health programme will tackle these impacts and will hopefully play a vital role in our ambition of giving all of our children the best start in life."
Having a tooth removed is now the most common reason for young children in Greater Manchester to be admitted to hospital.
As well as causing pain, sleepless nights and days of missed school and work for children and their families, each extraction costs the NHS around £1,000.
This adds up to a total bill of £20m every year for treating preventable tooth decay in children across Greater Manchester.