Oldham MP "extremely concerned" about proposals to move Post Office
Date published: 23 January 2019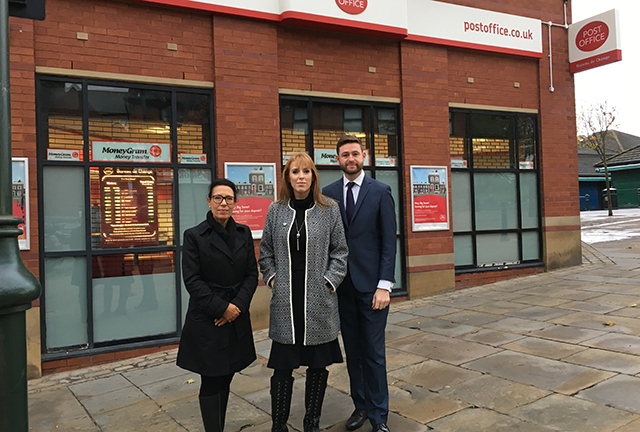 MPs Jim McMahon, Debbie Abrahams and Angela Rayner pictured outside the Oldham town centre post office
The MP for Oldham East and Saddleworth says she is "extremely concerned" about "many aspects" of the proposed move of Oldham's Post Office.
The controversial plans have gone before the public.
It's being put forward that the town centre branch could be moved from its current position on High Street to the WH Smith's store in Spindles.
People are now being asked for their thoughts on the plans - with our region's local MPs coming out strongly against the idea.
A petition has been set up by Oldham West and Royton MP, Jim McMahon, to rally against the move.
By Wednesday morning, 1,975 people had signed the online petition.
Debbie Abrahams, MP for Oldham East and Saddleworth, said: "I'm extremely concerned about many aspects of the post office moving over to WHSmith, not least the welfare of staff and the downgrading of services, but also the many people with mobility issues who will be affected.
"During a recent debate on the subject in Westminster the government minister overseeing the process was unwilling to answer questions about whether she had discussed the impact of the franchising of the post offices on people with mobility issues with her Department of Work and Pensions (DWP) colleagues.
"Many disabled social security claimants are paid and access their money via post office card accounts, as do many pensioners.
"So, at the very least, it seems incumbent on the Business Enterprise and Innovation (BEIS) minister, or the secretary of state, to have discussed the effect of franchising the post offices with DWP colleagues so they could conduct an equality impact assessment (EIA) on the vulnerable people who use the service.
"Oldham, like many other northern towns, has lost many local services as a result of the Government's austerity measures and this just looks like another example of them being happy to oversee more cuts with no concern about the effect on the people who use the service."
On the Post Office's page for consultation, the company writes: "If the move goes ahead, the branch will be run by HS Smith High Street Ltd, with extended opening hours to include Sundays.
"This move is part of the continuing modernisation of our branch network.
"We believe the most effective way to secure the long-term viability of Post Office services in Oldham is through a carefully selected retail partner, and we are confident that our proposal is the best way of safeguarding services for the community for years to come.
"The vast majority of our 11,500 Post Office branches, large and small, are successfully operated in this way with retail partners and we believe this is the best approach to keeping Post Offices in main shopping locations and at the heart of communities where they play in an important role in local economies."