Former mayor chips at cycle rally
Reporter: Ken Bennett
Date published: 27 August 2019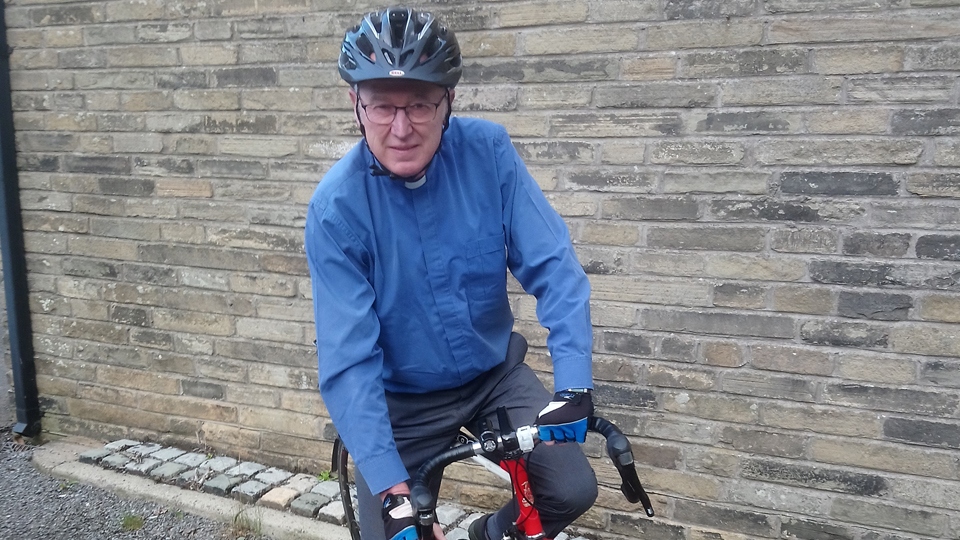 Rev John Rosedale on his bike
A chance remark by a veteran former Mayor of Oldham has sparked a debate around the visit of the nation's top cycling event to the borough.
Next month, the EVO Tour of Britain scythes a route taking in Grains Bar, Delph, Uppermill, Wellihole Greenfield, Mossley and onto Stalybridge on Saturday, September 14.
The eighth and final leg of the Tour is a 165 kilometre circuit of all Greater Manchester's 10 boroughs including Oldham and Tameside.
Saddleworth Parish Council is planning to display a large White Rose flag Uppermill's Civic Hall and library with a 'Welcome to Saddleworth, Yorkshire' banner across Oldham Road.
But John Hudson, a long serving Oldham and Saddleworth Parish councillor told parish council colleagues: "I don't like cyclists.
"They are a nuisance. I nearly hit one the other day. I certainly don't want to be welcoming them to Saddleworth."
Interviewed later, Councillor Hudson, who admits to never owning a cycle, said: "I'm not against cyclists but I think the amount of money spent welcoming them to Saddleworth could be better spent elsewhere.
"In truth the riders will simply whoosh through the villages in just a couple of minutes and then they're gone.
"Many ratepayers don't have big incomes and spending money on this kind of event just doesn't make sense."
He added:"Part of the problem is our roads and lanes are simply not wide enough to accommodate cyclists. And some cyclists just don't seem to understand or obey the Highway Code.
"I'm not against cycling even though I never had a bike. But when I was young road conditions were very different then!"
Councillor Hudson, who celebrates his 80th birthday on Christmas Eve, added: "The racing cyclists will be travelling at more than 40 mph on some parts of the local route. It will be just a blur and over in minutes."
Residents who took to social media to debate his comments were divided in their views on the race coming through the borough.
Councillor Jamie Curley, chair of Saddleworth Parish Council, said: "Personally, I welcome the race and indeed will be staffing the kitchen at the Civic Hall where free- Yorkshire tea - and coffee will be served.
"I think it is a great opportunity for coverage of our beautiful corner of the world and we will be able to show off Saddleworth and encourage people to visit us and give a welcome boost to our local economy."
Rob Newton is area secretary for the RSF Off-Road Cycling club, the oldest off-road cycling club in the world with over 1000 members.
He said: "I am dismayed by Councillor Hudson's remarks. To be hated simply because we ride bikes is quite unbelievable. Indeed it is attitudes like this which mean that our members prefer to ride our bikes off-road as much as possible."
Saddleworth Vicar, Rev John Rosedale, a keen cyclist for over 30years, said: "I can get around the churches almost as quickly on my bike as I can in the car and I don't need to look for parking.
"I'm well aware of councillors Hudson's tongue in cheek comments where he is also trying to get a point over.
"For cyclists and the public alike, to have a national event visit our villages should be greeted not with just a warm welcome but an opportunity to show what we have on offer here.
" Just as Councillor Hudson is, on occasion, irritated by cyclists, I also wonder at the sensibilities of those cyclists who wear dark clothing at night, have little or no lighting on their cycles and insist on riding in the middle of the lane.
"I'm sure he doesn't dislike every cyclist," he added.
---
Do you have a story for us? Want to tell us about something going on in and around Oldham? Let us know by emailing news@oldham-chronicle.co.uk , calling our Oldham-based newsroom on 0161 633 2121 , tweeting us @oldhamchronicle or messaging us through our Facebook page. All contact will be treated in confidence.