Spare a thought or two for your furry friends as New Year's Eve fireworks strike
Date published: 30 December 2019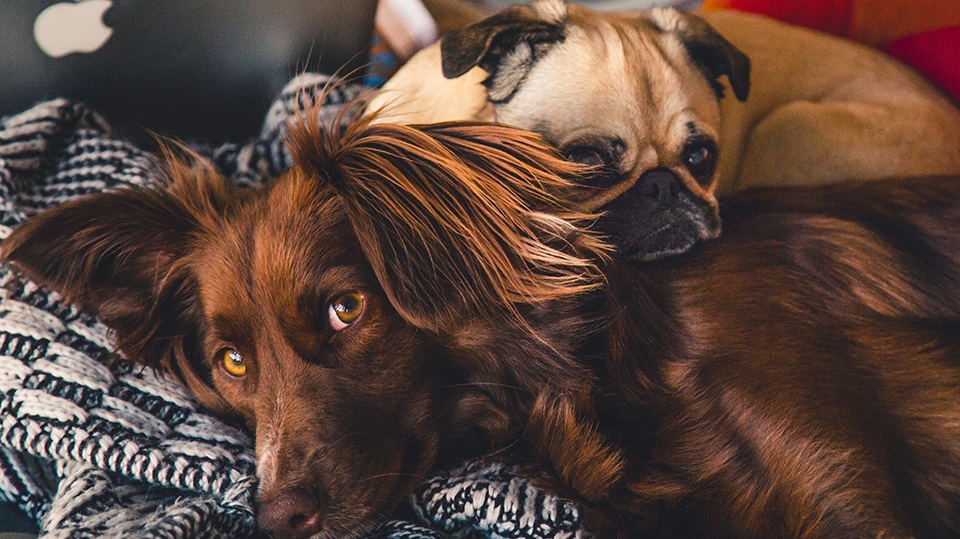 New Year's Eve celebrations can be a traumatising time for your dog
Are you planning on celebrating the turn of the new year with fireworks?
While this is a fun time for many as we celebrate the advent of 2020, for your furry friends this can be a traumatising time.
The impact on pets can be quite enormous, with a recent RSPCA survey reporting that 62-per-cent of UK dog owners say their dog has become stressed as a result of fireworks, and 54-per-cent of cat owners.
As a reaction to this problem, already this year we have seen Sainsbury's stop selling fireworks and a petition has been signed by hundreds of thousands of people calling for a ban on selling fireworks to the general public.
Yet the problem persists.
Company of Animals founder and all-round dog expert Dr Roger Mugford has some welcome advice as you prepare to let the new year in tomorrow night.
"Personally I'd prefer to use a non-drug approach, and clearly you should keep you dog indoors at Hogmanay," advised Dr Mugford.
"Close the curtains, maybe turn up the radio and allow your dog to the centre of the house, possibly under the stairs where any sound and bangs outside will be less transmitted.
"For the longer-term, you can train your dog about these sounds, and that means conditioning them to experience these sounds from puppyhood days onwards.
"If you go online there's downloads available where you can play these loud bangs and get them used to these sounds."
Here's some tips:
Recognising the signs
When a dog becomes distressed there are key signs to look out for.
If you notice any of the below behaviour in your dog it is likely they are not coping with the situation.
Key symptoms include:
Excessive pacing or shaking during a period of loud noise
Increased vocalisation, by moaning or barking more frequently
Trying to get your attention
Shedding
Panting
Needing the toilet more frequently
Evening prep
Consider closing all curtains, windows and doors around the house, this can really help to reduce the impact of the bang from the fireworks and might help keep your dog calmer. The closed curtains will also keep out the light flashes, which when unexpected, can spook your dog.
Turning on the radio or TV to a volume which will mask the loud noises can also help to keep your dog unaware of the bangs.
You can also create a den for your dog, such as covering a dog crate with blankets, so they have somewhere safe to go during any firework displays.
Blocking out the noise
If you have a dog with dropped ears you can create homemade ear defenders to protect your pet during periods of loud noises.
Walking time
Considering the time of day to walk your dog during fireworks season is a must.
If you regularly walk your dog during the evening, consider going right before dusk, to avoid prime fireworks time.
Getting out on a walk with your dog earlier will allow them to go to the toilet happily, something they may be too afraid to do later in the evening if there is a firework display in close proximity.
Your dog will also burn off some energy when out and about and will likely be more relaxed later in the evening.
But remember, always keep your dog on a lead and wearing its tag when walking at this time of year.
Set the tone
In addition to all of the above, preparing your dog to cope with unusual noises is a great way to support them and can really minimise any distress.
For more information on Company of Animals, please visit: www.companyofanimals.com
---
Do you have a story for us? Want to tell us about something going on in and around Oldham? Let us know by emailing news@oldham-chronicle.co.uk , calling our Oldham-based newsroom on 0161 633 2121 , tweeting us @oldhamchronicle or messaging us through our Facebook page. All contact will be treated in confidence.