Oldham pensioner who warmed the nation's hearts at Christmas, speaks about overnight 'Internet sensation'.
Reporter: Alex Brooke
Date published: 10 February 2020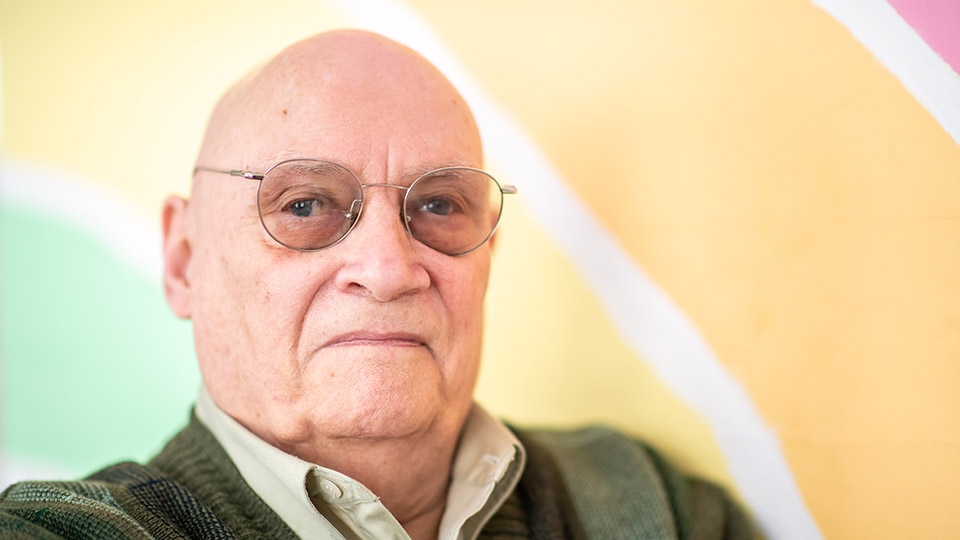 Age UK's famous volunteer Terrence Brian
As Christmas stories go, one in December 2019 about an Oldham pensioner's loneliness, touched thousands of people, up and down the country.
Terrence Brian, who is 78, spoke bravely on BBC Breakfast, about being alone on Christmas day. He confessed to having spent every 25h December on his own, for the last 20 years.
"It's just typical that I've not really had anyone to spend the day with, since my mum died. I just make myself a sandwich and then I will watch the TV," he told presenter Dan Walker.
It really brought home the stark reality faced by lots of elderly people, whose plight is at such odds with the idealised view of what Christmas is all about.
Little did the humble pensioner know, was that his story promoted on a BBC video, would go viral online. It was then that celebrity John Barrowman said he'd been 'moved to tears' by Terrence's story and invited him to his show.
A second video also went viral, as thousands of people in the audience at John's show sung Silent Night to Terrence (his favourite carol).
It's been quite an adventure for him since mid – December, after the success of his Age UK campaign, he's now being courted by the mainstream media, who want to know more about him.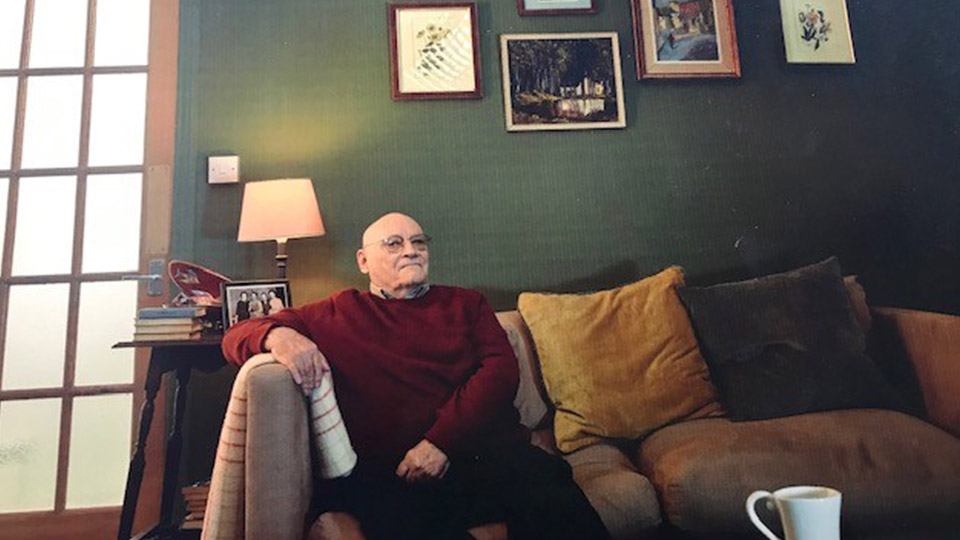 He spoke to The Oldham Evening Chronicle, saying he's still amazed by what has happened to him recently.
Terrence explains that campaigning, whch is what he's still doing now for Age UK, is something he's done all his life.
"I'm a person who really tells it like it is and I guess I've always fought for the lower man, whoever they might be."
He initally fought for gay rights, as a young man. He was with the group CHE, or Campaign for Sexual Equality. He managed to campaign when it was dangerous and illegal to be gay.
"When I was 20, I couldn't understand why I was attracted to my own sex.
"The first thing I thought was that I must be a freak.
"That was until I heard about the CHE."
Terrence's life has been one of ups and downs. His younger brother died when he was 26 years old. His father was a traveller and as a consequence Terrence didn't have much education. As soon as he'd got settled in a school, he was likely to be moved on. It wasn't until years later, he was diagnosed with dyslexia and recognized why he'd also had trouble with certain things.
Terrence left school at the age of 14, as his father had told him to get a job. He decided to go into nursing at the age of 20, where he spent 10 years looking after people. From there, he looked after mentally and physically disabled people.
He retired early, but it wasn't long before he was nursing again when his mother got cancer. She passed in 2000. From then on, Terrence was left with no other immediate family.
"I was very sad after my mother died. I was very close to her and I'd lost my best friend.
"Nobody ever explains how hard grief hits you, until it happens to you.
"I used to think to myself that I needed to go and cook mum's tea, even after she'd gone, but then had to remind myself that she wasn't here anymore."
On top of his grief Terrence suffered a heart attack and was told he'd got diabetes.
The final straw came when his partner of four and a half years, walked into the hospital where he was being treated and told him he was dumped.
"I just fell into the worst depression, I've ever known," says Terrence.
It was at this point that a friend told him about Age UK and the LGBTQ group they had. He went along and found they were learning how to use tablets (computers). So he did a nine week course and found some new friends, which really helped lift his spirits.
It wasn't long before his natural character and kindness shone through and he became the kingpin of the group.
Enter to the story, Maggie Hurley, one of the manager's of Age UK, who put Terrence forward to star in the official advert for the charity this Christmas. They decided to use real volunteers this year, instead of relying on actors. That's where things really took off and nobody could have predicted Terrence's overnight success.
The BBC's Dan Walker got in touch with Terrence after hearing that he'd spent the last 20 Christmas day's on his own. He was candidly honest when he sat on the sofa on live TV and told it 'like it was'.
Dan asked him if he would like a Christmas tree this year and Terrence said yes, so there was another surprise in store for him.
Students from Oldham College turned up on his doorstep at 7pm at night, to deliver and decorate a tree for him. They then stood and sang his favourite carol – Silent Night for him.
"It was then that I welled up and emotion got to me. I just thought what had I done to deserve all this?"
When John Barrowman invited Terrence over to see one of his shows in Sheffield, he told him that if it hadn't been for his generation, fighting for gay rights, he couldn't have married his husband.
"I was highly delighted to meet John and I was still wondering, why me. As I was just thinking, that I'm just being myself."
Being told what an overnight Internet sensation he had become, came as a massive surprise to Terrence. It's been quite an adventure, for the pensioner. But he insists it hasn't changed him.
"I will always be me. If I can help someone, then nine times out of ten, I will. What I've been more pleased about is how much this has helped Age UK."
What's next for Terrence?
On the day I met him, a famous BBC personality had been to see him at the Age UK centre in Chadderton. They were talking about an opportunity with him and that's all we're allowed to say about it, at this stage.
Terrence is continuing to help Age UK projects, one of them is a cross-generational and cross cultural project with teenagers and young people locally at The Radclyffe School.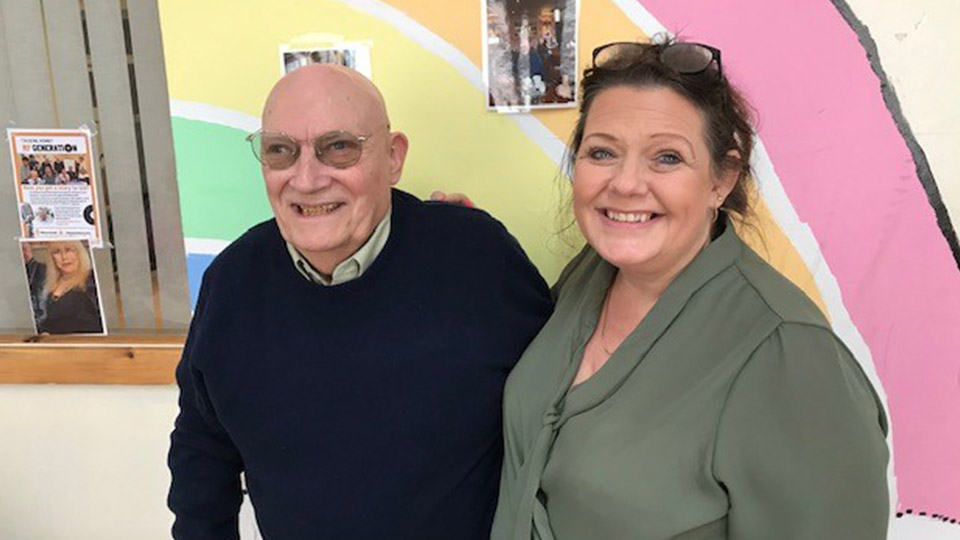 Maggie told me: "The older people and the younger generation share experiences and get to know each other.
"A lot of the time youngsters say they just think that pensioners are smelly, frail and they're likely to tell them off.
"While older people can stereotype young people into thinking they're up to no good, or they have to avoid them if they see them in the street.
"This project breaks down barriers and there's a lot of friendships that come out of it."
It gives you a good idea of how well rounded Terrence is; volunteer, carer and friends with people of all ages and walks of life, whilst maintaining his ethics to remain a campaigner.
---
Do you have a story for us? Want to tell us about something going on in and around Oldham? Let us know by emailing news@oldham-chronicle.co.uk , calling our Oldham-based newsroom on 0161 633 2121 , tweeting us @oldhamchronicle or messaging us through our Facebook page. All contact will be treated in confidence.