Rough sleeping drops in Greater Manchester despite North West homeless services hit by funding cuts
Date published: 27 February 2020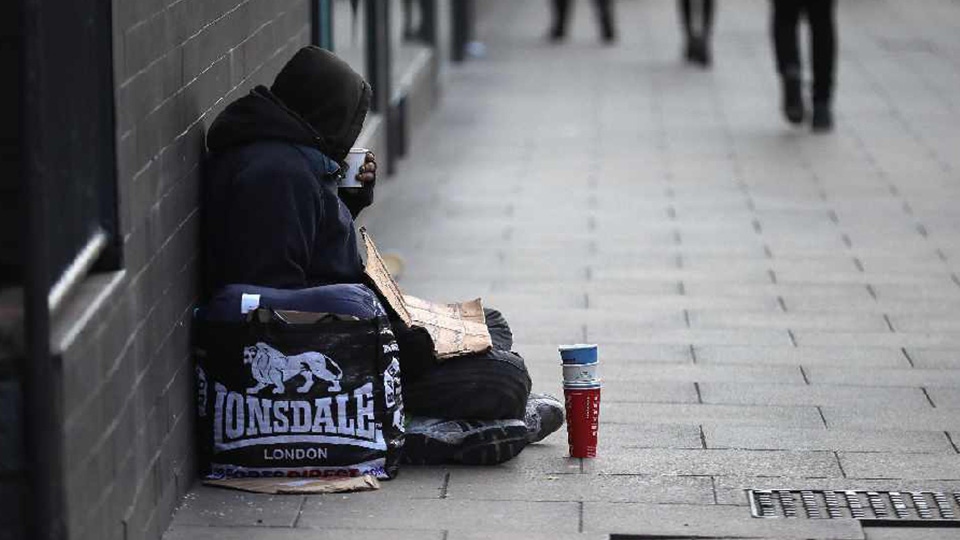 Homelessness in Greater Manchester
Services for single homelessness people in the North West have seen a shocking 68% funding cut over the past ten years, according to the latest Local Authority Spending on Homelessness report out today, commissioned by St Mungo's and Homeless Link.
The new report, authored by WPI Economics and released to time with latest rough sleeping stats, shows that last year councils in England spent £1bn less on services supporting single homeless people compared to 2008-09.
At the same time, councils are being forced to spend more than they did ten years ago on temporary accommodation for homeless families because of a shortage of social housing and cuts to housing benefit in the private rented sector.

Despite this, after years of government cuts, total council spending on all homelessness related activity has fallen from £2.9 billion in 2008-09 to £2.2 billion last year.
Greater Manchester's figure of 151 people across all 10 boroughs, including Oldham, is a significant reduction. It is the lowest in the city-region since 2015.
Despite the pressures, rough sleeping in Manchester City Centre has dropped in by 37% in a year and nearly 50% in two years. That's why The Mayor of Greater Manchester, Andy Burnham, has called on the government to support Greater Manchester's successful A Bed Every Night scheme.
The decline of 37% in the past 12 months is a greater reduction than other comparable city-regions, and is largely down to Greater Manchester's joined-up approach of A Bed Every Night – delivered by a unique combination of the public, private, third and faith sectors – the Rough Sleeper Initiative and other local schemes.
Andy said: "Tonight in Greater Manchester around 450 people will be in shelters across our 10 boroughs – this is only happening because Greater Manchester has pulled together and raised funds to help people sleeping rough, alongside the goodwill of hundreds of volunteers.
"These figures suggest our approach is working and that the country could end this crisis much more quickly and save lives if the government was to help us fund A Bed Every Night and adopt it more widely. But we now also need much greater focus on the causes of homelessness – since 2016 housing benefit has not kept pace with rent increases. It is not enough for Government to end the freeze – they must now restore benefits to levels of actual rents."
For those who have slept rough for a substantial period of time, Greater Manchester's Housing First pilot works alongside A Bed Every Night to provide ongoing intensive support in a home of choice. Funded by £7.6m of public money, Housing First in the city-region has so far helped 84 people off the streets into their own homes and is set to run for a further two years.
Paul Dennett, City Mayor of Salford and Greater Manchester's Lead on Homelessness and Housing, said: "It is time Westminster acknowledged our pioneering work and made our policies the nationwide strategy for tackling rough sleeping. Homelessness is a crisis in this country but in Greater Manchester we have a blueprint for success, one that has helped hundreds off the streets in just a few years. But it is simply unsustainable for the government to expect local authorities and others, 10 years into a period of austerity and swingeing cuts to councils' budgets, to fund solutions ourselves.
"Government must also review their existing 'No Recourse to Public Funds' policy and its impact on destitution and rough sleeping, properly address the four year freeze on the Local Housing Allowances in the forthcoming Budget and put a stop to no-fault evictions. In addition, Government's 'Right to Buy' policy is a major contributory factor and must be suspended. Urgent action is required to tackle the real causes of the housing, homelessness and rough sleeping crisis."
Greater Manchester's rough sleeping counts take place regularly across all 10 boroughs. The national rough sleeper count occurred nationwide over one night in November 2019, with all data later submitted to Government and verified by Homeless Link before today's publication.
It shows the number of people sleeping rough on a single night in the city-region declined from 241 in November 2018 to 151, a full 90 fewer people sleeping on the streets. Manchester saw a drop of over a quarter (26%) while Trafford recorded only one person sleeping rough on the night of the count.
It is important to note that what the public see during the daytime, particularly in the city centre of Manchester, does not reflect the true situation of people bedded down on the streets. Greater Manchester Police (GMP), working closely with Manchester City Council and the Greater Manchester Combined Authority (GMCA), has introduced a compassionate approach to addressing begging in the city centre through the new Street Engagement Hub.
The public of Greater Manchester continues to show its compassion and unwillingness to simply walk on by, by giving to or fundraising for the Mayor of Greater Manchester's Charity (reg 1180418) which funds a variety of schemes addressing homelessness and rough sleeping across the city-region.
There are also opportunities to volunteer your time or give goods to worthy causes – visit bedeverynight.co.uk/donate to find out more.