Manchester Arena bombing: three years on
Reporter: Ken Bennett
Date published: 22 May 2020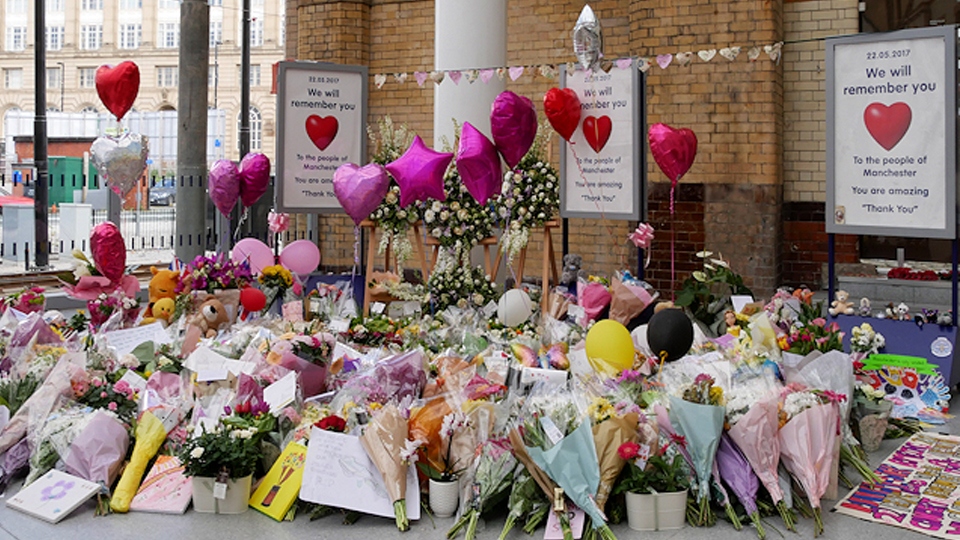 The Manchester Arena bombing was three years ago today.
Three years ago today the Manchester Arena bomb brought terror and devastation to the community. Here KEN BENNETT who covered the aftermath, reprises a piece he wrote for the Oldham Evening Chronicle.
---
It is only a tiny piece of material but it's mine and I will keep it.
It has been fashioned with scrupulous love and care into the shape of a heart by someone I'll never see or ever get to know.
It is a part of a moving mosaic, a bitter sweet memorial to 22 people who went to a concert and never came back.
In Saddleworth where I live they knit bright red poppies for Remembrance Day and place them in crevices in dry stone walls to the dead of two world wars.
Tragically, Monday, May 22, 2017, became Manchester's own 21st century Remembrance Day.
But in its raw, slightly rough edged way, the city embraced and absorbed the immense hurt as its very own.
The reality though is the dead, injured and those damaged in mind and spirit, do not lie on Flanders Field or Dunkirk. Their lives were taken here, leaving a theatre: elated, inspired and filled with joy.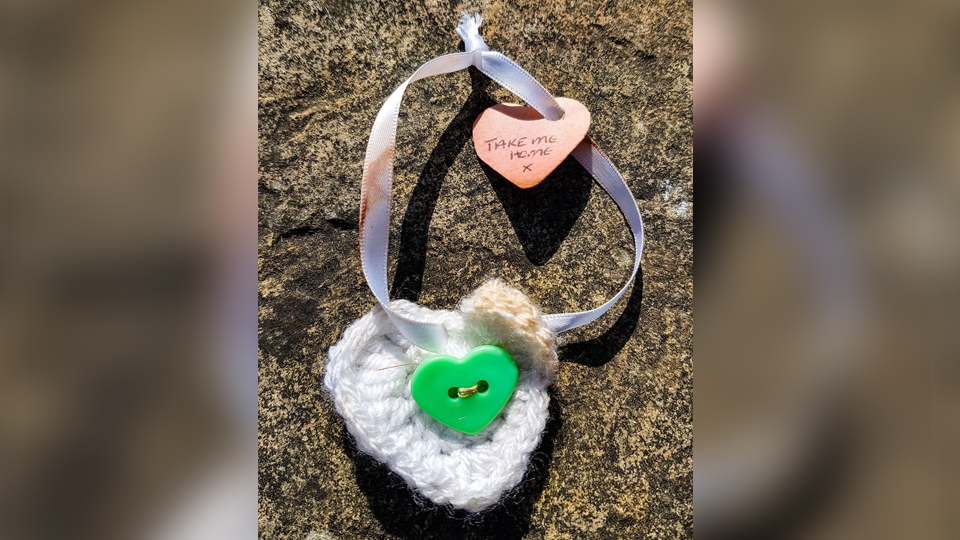 And these lovingly crafted knitted hearts are a gently searing, almost bewildering, reminder of innocence lost to a 21st Century ideological war.
One of my five daughters brought the little heart home from St Ann's Square.
The square had taken on the silent mantle and unofficial shrine to the victims who died, ironically, on my birthday.
And now I am here, standing listening to an elderly man, head bowed, humming the anti war tune: "Where Have All The Flowers Gone?"
The square dips into a hush. The battalion of heart-shaped balloons whisper in the breeze. A woman, pushing a baby in a pram pauses to read the outpourings of love and grief on the myriad of cards, tributes and messages from across the nation and the world.

Two lady mounted police officers arrive. They, with their horses, strong, reassuringly quiet sentinels, survey the scene.
A family from Grimsby, aware the bank upon bank of flowers are soon to be moved, still purposefully place their neat, freshly cut blooms on the ground.
They hug each other in silence. The little girl, stifling her tears, whispers: "Daddy will they be coming home?"
I clutch my knitted heart in my pocket.The stitching is warm to the touch: It is, in every sense, a comfort. It creates peace.
The petals that have covered the square in a deep duvet of love are to be pressed into books of remembrance for bereaved families.
Pot plants will be replanted in new homes across the city. And the faded bouquets will be turned to compost.
The army of soft toys and football shirts left will be restored and presented to children's charities.
Manchester Central Library's Archives and Manchester Museum will faithfully keep the cards and messages.
There is a plan for permanent memorial to those who died. But meantime I'm minded of the message engraved on an impromptu statue in the square.
It reads :"Let our heart beat as one as we celebrate unity and strength which make our city great. A truly Greater Manchester."
Perhaps that is why I clasp the woollen heart. It underpins the unspoken...
Here is a link to a poem by Tony Walsh. Be inspired.