Dovestone: 'no-go area' needs urgent funding
Reporter: Ken Bennett
Date published: 03 June 2020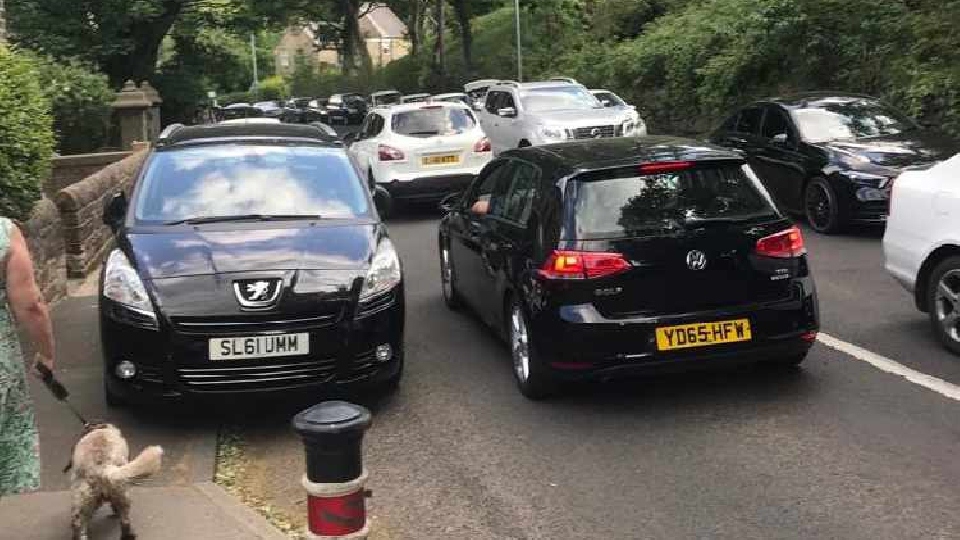 Another chaotic traffic scene close to Dovestone Reservoir
A respected doctor and a community champion have appealed directly to Andy Burnham and an MP in a bid to resolve ongoing chaos at an Oldham beauty spot.
Dr Andrew Taylor, chair of Greenfield and Grasscroft Residents Association, has written to the Greater Manchester Mayor and Debbie Abrahams, MP for Oldham East abd Saddleworth, reminding them of a mini-summit they attended last year at Dovestone Reservoir.
His letter follows an announcement Mayor Burnham is seeking a share of £50billion "to improve natural assets in the North, including peatland, heathland, wetland, grassland, forest and water bodies."
Highlighting Dovestone, Dr Taylor, medical officer for the Oldham Mountain Rescue Team, said funding is needed: "To keep our natural assets from being devastated, and local residents safe from danger, aggression - and life-changing intrusion.
"Dovestone has become a no-go area for many, driven away by the inconsiderate, lawless and aggressive behaviour of the throngs who disobey rules of conduct and the law.
"It has been a no-go area for a long time now for local people who used to use their nearby countryside, as it has been given over to hoards of visitors.
"Driving behaviour on the A635 Greenfield to Holmfirth road is reaching crisis levels of illegal and dangerous parking, as is blocking access to through traffic and access to farmers' land.
"Abuse follows remonstration with these offenders, and even police ticketing offenders has made no difference.
"The problem escalates."
Dr Taylor praised the efforts of 'feet on the ground' services of Dovestone Marshals, police and agencies, but says they are overwhelmed.
"RSPB, United Utilities, police and volunteers cannot make progress with their work, nor have influence on the awful invasion," he added.
"The funded marshalling scheme is invaluable, but is over-faced with problems way beyond their remit and the generous funding for their services for the whole of 2020 is being used up already in this wonderful weather.
"And the weather brings great concern back to those of us with responsibilities in the area.
"Not only is emergency vehicle access again compromised - most importantly for Fire, Ambulance and Mountain Rescue, but the ever-present risk of the wilful recklessness of visitors presents the largest threat yet to another massive moorland fire.
"The moors are drier yet than they have been since well before the great fires of 2018."
And Dr Taylor warned: "It will only take one antisocial idiot - and there are legions of them - to create a conflagration far worse than any earlier disaster.
"And now we struggle with often-blocked access to emergency services to both the hinterland and even the main road of the area.
"More than ever a well-funded, high level, co-ordinated approach is urgently needed before a disaster, possibly worse than previously seen, threatens the landscape, or even human life."
He added: "We do not want to hear what IS being done, massive as it is, as it is patently insufficient.
"We need a successful strategy - measured by outcome - not a tally of effort expended.
"If £50billion is available, the problems at Dovestone are an urgent, pressing need for preventive investment.
"A moorland fire can cost millions when all is accounted for, and a death on the A635 an incalculable cost.
"As the good weather continues we stand by in apprehension."
Oldham East and Saddleworth MP Debbie Abrahams has also had her say on the much-increased activity near to the site in recent days and weeks.
She said: "I know our local services are working hard to safeguard the precious countryside around Dovestone.
"Last weekend alone I have been informed by the police about the traffic issues they have been dealing with and the parking tickets they've been giving out and, unbelievably, five on the spot fines for setting up barbecues.
"Some residents also got in touch saying they had been blocked in their homes by inconsiderate drivers.
"This spike in activity may be the result of 'lockdown fatigue', the good weather or people seeing the government lifting some lockdown rules, for example allowing travel for short visits to parks and so on.
"It's understandable that families who have been locked down for so long are yearning to get to open green spaces, but the affect on areas like Dovestone can be devastating for the area and local people.
"We must not forget the 2018 moorland fires.
"It's no longer about just preserving the countryside, preventing fires, and keeping disruption to a minimum anymore; we now have to factor in the potential effects of the coronavirus pandemic.
"Andy Burnham and I will continue to work closely with local stakeholders to help preserve our beautiful area, as we committed to last year."
---
Do you have a story for us? Want to tell us about something going on in and around Oldham? Let us know by emailing news@oldham-chronicle.co.uk , calling our Oldham-based newsroom on 0161 633 2121 , tweeting us @oldhamchronicle or messaging us through our Facebook page. All contact will be treated in confidence.