New campaign to inspire a 'walking culture' set to launch
Date published: 06 August 2020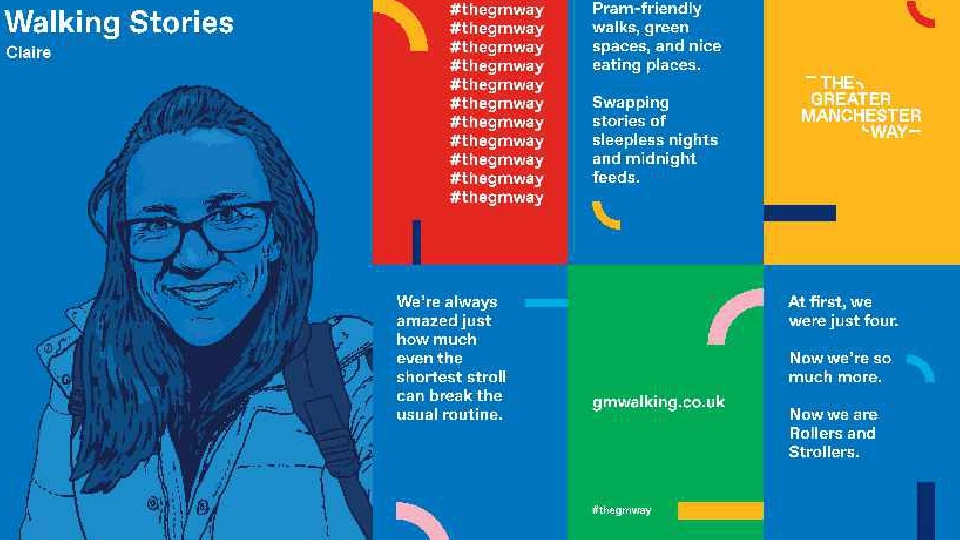 The Greater Manchester Way campaign is encouraging everyone, whether they are a mover, a strider, a rambler or stomper to walk more, and to walk more often
A good stroll's good for your northern soul is the message being delivered through a major new campaign that aims to inspire and create a long-term walking culture across Greater Manchester following a surge in appreciation of exercise during the lockdown period.
Starring the 'walking stories' of people across the city-region, The Greater Manchester Way campaign is encouraging everyone, whether they are a mover, a strider, a rambler or stomper to walk more, and to walk more often.
Celebrating the simple (and often hidden) joys of walking, the campaign aims to help us all to realise what walking has to offer, while highlighting the real reasons why people walk.
Through the sharing of personal stories, The Greater Manchester Way demonstrates the benefits of a simple walk - from physical and mental health improvements, to social cohesion and environmental benefits.
Led by the Greater Manchester Moving (GM Moving) team, The Greater Manchester Way forms part of the ambitious local plan to overcome long-term environmental barriers to physical activity and to improve population health.
This includes a commitment, backed by significant investment, to become a walking city region and create a culture and environment that supports walking as a part of daily life.
It is supported by the Greater Manchester Health and Social Care Partnership and the Greater Manchester Combined Authority (GMCA).
Sarah Price, interim chief officer at Greater Manchester Health and Social Care Partnership, said: "For many people, walking more is the easiest way to start making physical activity part of everyday life.
"The benefits go beyond the direct boosts for your health and wellbeing.
"Walking can help bring people together, improve our environment and boost our economy.
"We are already seeing positive changes in the numbers of people who are walking, but there is more to do.
"Our Greater Manchester Way walking campaign is an important and inspiring next step."
A survey conducted last year showed that adults over the age of 16 across the 10 boroughs of Greater Manchester who took part in walking at least twice a month averaged to a total of 58.96%,with Stockport home to the keenest walkers with 64.1% of residents walking at least twice a month.
Andy Burnham, Mayor of Greater Manchester and avid supporter of the campaign, said: "I think this campaign is a wonderful and welcome step in the right direction for Greater Manchester going forward in the future.
"We have ambitious aims for Greater Manchester to become the first walking city-region in the UK, empowering 75% of people to move more by 2025 to get active on a day by day basis.
"With the launch of The Greater Manchester Way, that goal is closer than ever."
One of the local stars of The Greater Manchester Way Walking Stories is Claire Walmsley, who transformed her life by starting her own mums and babies walking group, that has been nominated for a national award.
Claire said: "Starting a pram-walking group for new parents not long after having my baby may have been a slightly crazy, sleep-deprived idea at the time, but it's grown into something wonderful.
"Rollers and Strollers has grown from just four people the first time we walked to many more who come along regularly to enjoy our pram-friendly walks in green spaces across south Manchester, and of course the all-important coffee and cake at the end!
"Although group activities were halted at the start of lockdown, I've been able to start walking again recently with my family which has been really valuable and provided me with some much need exercise and respite.
"I'm looking forward to meeting with the group soon and can't wait to explore new routes in our local area.
"I'm really pleased to have been able to tell my walking story through The Greater Manchester Way campaign and I'm excited to hear and read all of the other stories."
The Greater Manchester Way is a multi-channel campaign that will run until the Autumn and will be seen across the city and in all 10 boroughs of Greater Manchester and local neighbourhoods.
As well as out-of-home posters and digital adverts, the campaign comprises a video on demand film on the ITV hub and local radio adverts.
The campaign directs to a new website: www.GMWalking.co.uk where residents can find local walking routes and walking groups and 'find their own way' to walk,
The campaign is taking to social media too: @TheGMWay.
The campaign is officially set to launch on Monday (August 10).
---
Do you have a story for us? Want to tell us about something going on in and around Oldham? Let us know by emailing news@oldham-chronicle.co.uk , calling our Oldham-based newsroom on 0161 633 2121 , tweeting us @oldhamchronicle or messaging us through our Facebook page. All contact will be treated in confidence.