'Neverending' coronavirus restrictions prompt mental health concerns from Burnham and Leese
Reporter: Niall Griffiths
Date published: 05 November 2020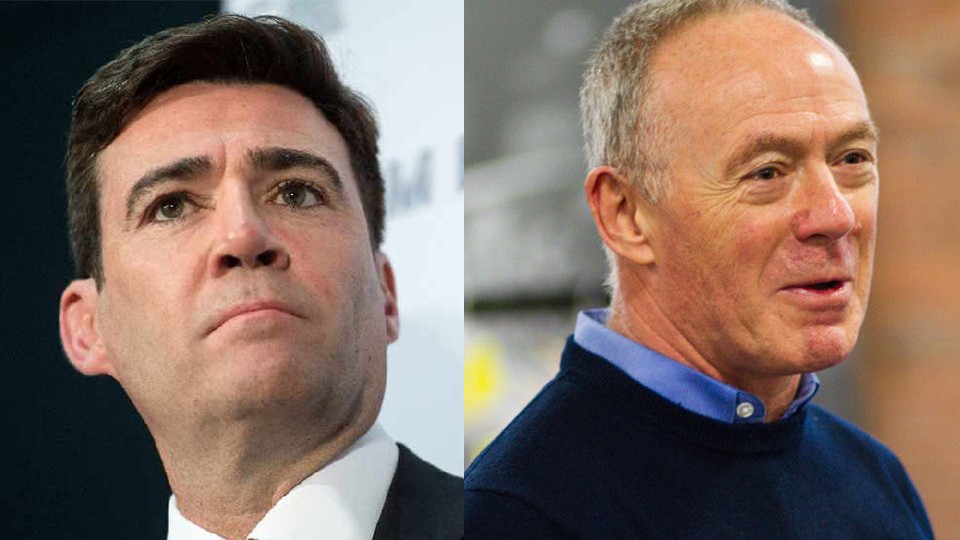 Mayor Andy Burnham and Deputy Mayor Sir Richard Leese
'Neverending' Tier 3 coronavirus restrictions in Greater Manchester could have a damaging and potentially 'lifelong' impact on people's mental health.
That was the warning sent to the government by the region's mayor and deputy mayor, Andy Burnham and Sir Richard Leese, on the eve of the new lockdown in England.
The four-week lockdown will see pubs, restaurants, gyms and non-essential shops close from Thursday until December 2.
Its merits have been questioned by Mr Burnham and Sir Richard, with the former suggesting that schools should also close to achieve a 'true circuit break' to try and reduce Covid-19 transmission.
But both leaders stressed that continued restrictions would make it even more difficult for those who are struggling with their mental wellbeing during the pandemic.
At a press conference on Wednesday, Mr Burnham expressed concerns about people 'endlessly' living under restrictions and being denied human contact.
He said: "I know the Greater Manchester Health and Care partnership has put in place a range of mental health support tools through online services, and they're going to be needed.
"Although it's difficult, we do have to embrace the level of closures being proposed, and possibly even more, to try and get things down to a more manageable level.
"Do that then hopefully lift the the restrictions later down the line, that would be the approach I would take.
"The impact on people's mental health is increasing and I don't want to countenance the idea of ending up in a neverending Tier 3 because that would be a very difficult and damaging palace for us to be from a mental health point of view."
The lifting of restrictions preventing families from visiting their loved ones in care homes during the lockdown was also welcomed by Mr Burnham as a mental health boost.
But Sir Richard, leader of Manchester council, raised particular concerns around the potential impact of the new restrictions on the mental health of younger people after a year of disruption to their work and social life, as well as their education.
"These measures are going to cause effectively lifelong harm to a large number of people, and it is a real concern," he said.
"On the other hand we have to try and take measures that prevent people dying [from Covid-19] as well, and that's an almost impossible balancing act.
"Throughout the whole of the pandemic, as a country, and indeed in other countries, we've been struggling to get that balance right."