Local nurse who quit smoking after cancer diagnosis is now urging others to do the same
Date published: 06 February 2021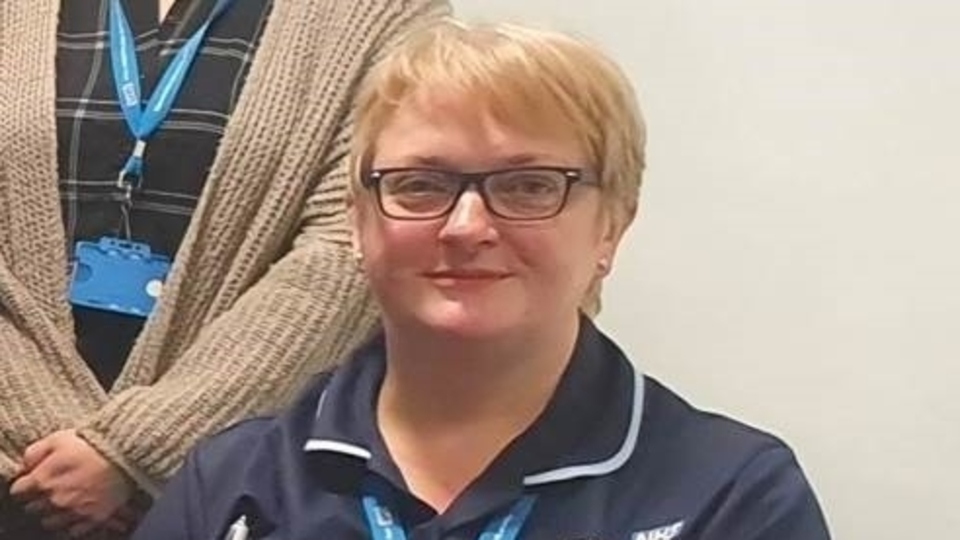 Nurse Marie Kirwan
Manchester nurse Marie Kirwan knows more than most the extreme harm caused by smoking, having witnessed the worst consequences first-hand.
Yet, until just two years ago her addiction to tobacco meant she was 'sparking up' herself at the end of every shift.
Marie has now shared the story of how, after nearly four decades of smoking, she has finally quit.
Marie, who is 52, chose to tell her story ahead of World Cancer Day, in the hope it will inspire others to follow her lead.
Marie works as a research nurse at Wythenshawe Hospital, part of Manchester University NHS Foundation Trust, in the Thoracic Oncology Research Centre Hub (thoracic oncology deals with cancer located in organs, glans or structures of the chest).
Despite this Marie was convinced that she would never be able to quit smoking.
She'd been a smoker since the age of 16, having started while at sixth form college.
A diagnosis of breast cancer changed all of that.
The day Marie received the news she smoked her last cigarette.
Marie said: "When my patients used to say to me 'I can't quit smoking' I genuinely understood their dilemma as I felt the same way.
"There I was, sitting face-to-face every day with the heartbreak that can come from continuing to smoke, and yet after these conversations when I finished work, I would light a cigarette.
"I carried the shame and guilt that I was looking after, caring, nurturing, and guiding people away from something which I knew was wrong, while continuing to smoke myself.
"Now that I've successfully quit, those feelings have been replaced by pride for having overcome addiction and adversity.
"I never imagined I would be able to call myself an ex-smoker.
"I always thought that quitting would be the hardest thing I could ever do but it wasn't – the thought of giving up is much worse than actually doing it. If only I'd have done it 36 years earlier."
As well as dealing with the harsh realities of smoking at work, Marie has also seen the damage smoking can cause even closer to home - smoking was the most likely cause of her father's early death.
Marie said: "In 2007 my dad was diagnosed with stage four lung cancer, which meant that he was terminally ill.
"As a health professional and as a daughter I really struggled with that realisation.
"My dad was incredibly poorly, we nursed him at home and he passed away peacefully surrounded by his family."
In the UK, tobacco is the largest preventable cause of cancer and causes around 54,300 cases every year (15% of all cases), including seven in 10 of all lung cancers.
In Greater Manchester, 16% of the adult population smoke - slightly higher than the UK average of 14.1%, which equates to around 6.9 million people – although smoking prevalence among adults has fallen by almost a third since 2011.
Dr Matt Evison, a lung specialist at Wythenshawe Hospital, said: "Marie's story, although poignant, is unfortunately far from unique.
"Smoking is an addiction and the best way to quit is with support from specialist advisors, using medicines and nicotine replacement.
"It is never too late to quit smoking.
"In fact, by quitting smoking ahead of chemotherapy or radiation therapy you can reduce the intensity of the side effects.
2Those who continue to smoke experience much worse symptoms than those who quit before starting treatment."
Smokers in Greater Manchester wanting to quit can currently get six months' free access to all features of the Smoke Free app to help keep motivated, monitor health improvements and track money saved by.
Simply visit: https://www.smokefreeapp.com/gm
The Smoke Free app has been scientifically proven to double a smokers' chances of quitting and has already helped half a million people stop smoking.
The app includes daily missions, a quit coach and a live chat feature, which is staffed by an NCSCT trained stop smoking advisor 24 hours a day, seven days a week.
Visit YouCanGM.org to find information and details of stop smoking services and support across all 10 boroughs of Greater Manchester or call the NHS Stop Smoking helpline free on 0300 123 1044.
---
Do you have a story for us? Want to tell us about something going on in and around Oldham? Let us know by emailing news@oldham-chronicle.co.uk , calling our Oldham-based newsroom on 0161 633 2121 , tweeting us @oldhamchronicle or messaging us through our Facebook page. All contact will be treated in confidence.